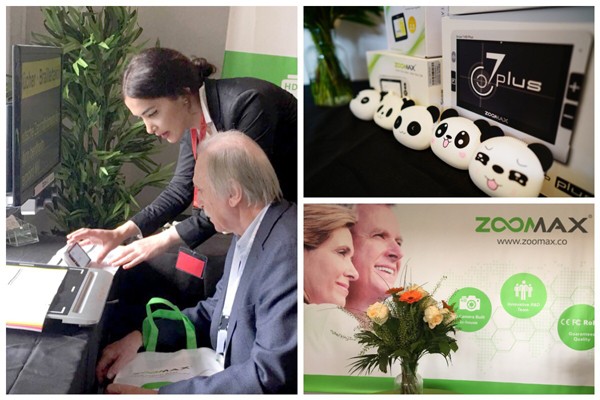 Zoomax attended SightCity, the world's biggest assistive technology exhibition for the visually impaired people, which was hold from May 3 to 5, 2017. At the exhibit, Zoomax new product, Snow 7 HD Plus and M5 HD Plus were initially demonstrated.
The key role of the Snow 7 HD Plus as an integration of various practical assistive technologies based on handheld video magnifier Snow7 HD was well shown.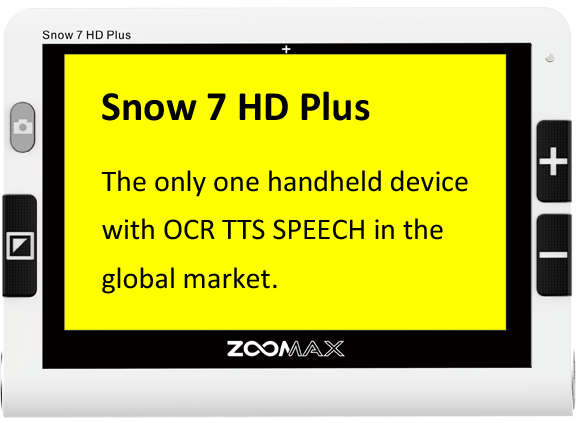 OCR TTS in Snow 7 HD Plus
Lots of people hope they can have a handheld video magnifier with SPEECH function.
Snow 7 HD Plus is the first and only one 7-inch video magnifier in the market installing OCR TTS.
Snow 7 HD Plus can scan an A4 full page. With 21 languages (accents included) options, low vision people are able to listen to natural reading with voice selected.
Reader Mode Specially Created for Friendly Use
According to years' research, it has been found by our engineers that people with severe visual impairment would more prefer to reading frozen image when they read long contents.
However, the minimum magnification of existing 7″ handheld video magnifiers in the global market are all above 2X. The existing 7″ can freeze a few contents when being placed on the reading material. Users may lift the device trying to catch more once they meet such problem. Nevertheless, most of the 7″ devices are unable to take a clear picture when being lifted up as users desired to focus on half of an A4 or full A4 page.
To provide better user experience, Snow 7 HD Plus comes out with an exclusive solution: Reader Mode.
In Reader Mode, a half of A4 page, or even a full A4 page can be captured clearly on certain heights. Users can freely zoom in and move the captured image on the screen. It even let users feel more relaxed by getting rid of moving the whole device frequently on the reading material that caused eye strain and missing of word/sentence. Moreover, the image in any magnification in Reader Mode is always super clear due to its special functionality setting.
The minimum magnification in Reader Mode can be 1.6X. People with tunnel vision caused by retinitis pigmentosa, glaucoma and other vision problem leading to narrow vision field will find Reader Mode make them see a complete word in a smaller size as needed.
13 Mega Pixel Camera, Super Clear Image
Snow 7 HD Plus implements HD 13 M pixel camera bringing the reproduction of every detail into full play. The distance view gets enhanced correspondingly as the camera setting upgraded. For low vision people, the super clear view is an incredible improvement in independent life.
New Product, M5 HD Plus
With intuitive buttons, M5 HD Plus was found very comfortable used by the senior people and people with very poor vision.
It is also the most affordable 5″ HD video magnifier in the global market. With dual HD cameras and an HD screen, M5 HD Plus gives crystal image for close and distant viewing. According to the user test during the exhibition, its basic operations can be immediately learnt at your first use. Advanced operations, as picture saving and reading line and masks can be quickly mastered in 3 minutes.
M5 HD Plus drew great attention on the show. Demos were ordered by many clients at the first day of the show.
Object Recognition, Cutting-Edge Technology
Zoomax's engineers always devote themselves to developing new assistive technology to improve the user experience of video magnifier. At Sightcity, we demonstrated the latest cutting-edge technology, including object recognition which will be adopted in our future product. It will bring lots of possibilities for the visually impaired people to know their surroundings and quickly recognize things in a certain area, like supermarket, restaurant and school, etc.
For information of Zoomax's previous performance on SightCity, please check the following links: