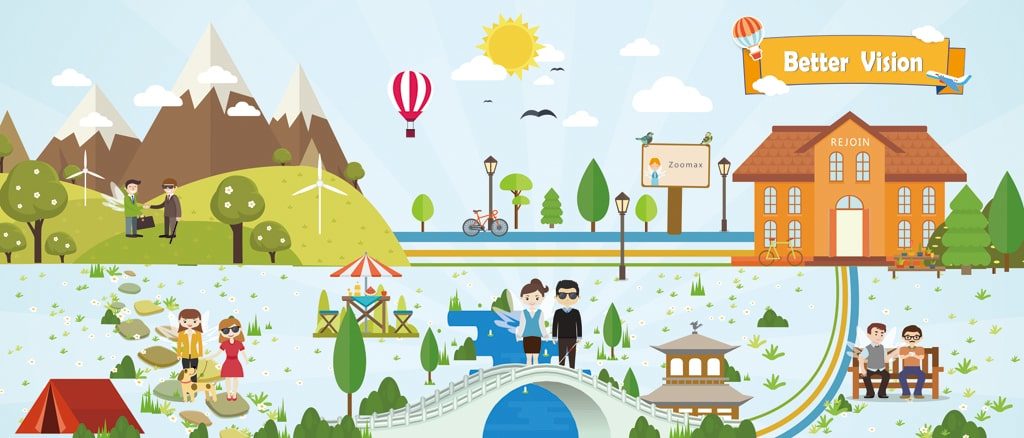 Since 2011, Zoomax has been committed to developing assistive technology for people with vision impairments.
Zoomax worldwide sales and service network have covered 60 countries.
A full line of low vision products: handheld, portable and desktop video magnifiers, and wearable device.
What We Value
At Zoomax, user experience is the most important aspect guiding new project development. We listen to voice and request from users and involve user's suggestion in new product definition. Thanks to the valuable opinions from users and partners, the principles of open collaboration for ongoing innovation have been our steady belief from the very start.
Every team member at Zoomax is driven by great responsibility to deliver best products and services which leads to the continuous dedication. We provide every team member with fair opportunity to receive training, participate in market construction and achieve career growth.
Innovation
Technology is changing people's life every day in this inspiring era. At Zoomax, engineers are always dedicated to bringing innovative technology to create smarter assistive products to help users gain easier access to their digital work, study and life.
To step ahead and seek for further development possibility in the future, Zoomax merged Rejoin and became its subsidiary in 2014. The parent company Rejoin Technology Co., Ltd was established in 2006.
Established in 2018, Zoomax (USA) Inc. is a wholly owned subsidiary of Zoomax Technology Co., Limited. 
Our company is located near Boston, MA, and provides sales and customer support for our customers in the USA, and its territories. For inquiries from USA region, please email to [email protected] so that the sales team can address your inquiry promptly.
Vision: Better Vision
Target: We are devoted to providing the most innovative visual aid products and services.
What we do:
At Rejoin, we solve vision problems through creative technology.
Our goal is to impact 100 million people by 2025, helping customers experience a fuller life through enhanced visual abilities. Regardless of any visual disability, Rejoin offers a better way of working, studying and living through our products.
Where we are:
In China
In USA
Branch: MA
Service center: CA & GA
Other
Worldwide partners: Japan, Germany, France, Italy, Russia, Norway, Switzerland, Australia, etc. (60 Countries)
Professional and innovative partners who share passion for our vision are welcome to join us in creating a better future for customers and value for stakeholders.
History of Rejoin and Zoomax