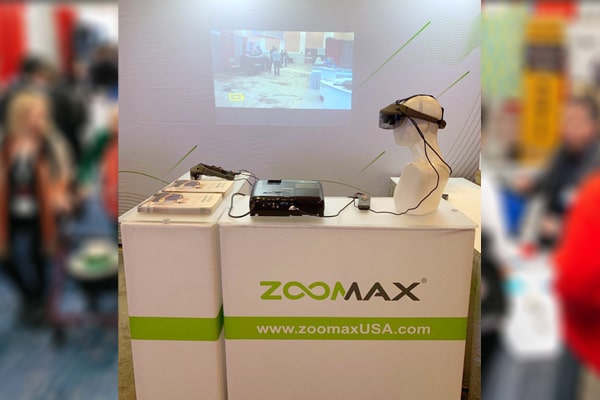 The 35th CSUN Assistive Technology Conference was held from March 11st to 13rd, 2020 in Anaheim, California, USA. Zoomax, the industry-leading brand in the assistive technology for low vision people, participated in CSUN 2020 in the exhibition and showed the latest low vision solution to all the visitors.
Due to COVID-19 impact, visitors of CSUN exhibition were less than 2019, yet the featured Zoomax units were still eye-catching. The highlight of Zoomax booth was 3 Acesight family members, including Acesight, new Acesight S, and Acesight VR, all electronic glasses for people with visual impairment.
Since its first release in 2018, Acesight has developed from a single product to wearable visual aids series. At this exhibition, Acesight S and Acesight VR were the real stars.
Acesight S, inheriting the comfortable wearing and great image from Acesight, was the new, simplified, and more affordable version. Acesight VR, a brand new electronic glasses implementing virtual reality technology (VR), brought the Acesight visual aids to the next stage. The lightweight, incredibly high resolution and great hardware were features enjoyed by both low vision users and professionals. When compared with other wearable smart glasses products, Acesight VR got some distinguishable differences. For more information, visit the Acesight website.
For the people who planned to try the new low vision gadgets yet didn't come due to the COVID-19, there was a video introducing Acesight VR made by David Bradburn, president of Zoomax USA.
About Zoomax's previous performance on CSUN shows, please check 2019, 2018, 2017, 2016, 2015, 2014 and 2013.