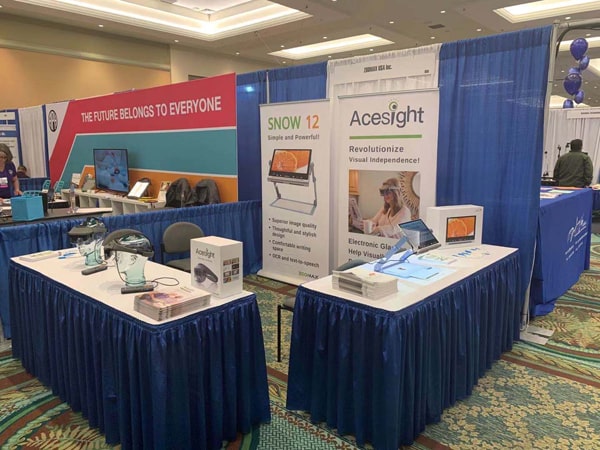 Zoomax joined Assistive Technology Industry Association (ATIA) on 29th Jan to 1st Feb 2020 at Caribe Royale Hotel and Convention Center in Orlando, Florida, USA.
The theme of ATIA conference 2020 was "Where the Assistive Technology Community Meets to Network, Learn, and Share". As one of the main developers in the low vision assistive technologies section, Zoomax attended ATIA with our latest solution aiming at enhancing the visual independence in networking and learning. For example, Acesight, electronic glasses which enable people to walk around due to its open design, greatly improve the networking of people from low vision community. The story that Acesight helped a visually impaired person to enjoy a symphony without anyone else needing to tell him is quite moving.
Besides Acesight, highlights of the Zoomax booth included Acesight VR and portable video magnifier Snow 12.
Acesight VR is a brand new virtual reality version of Acesight that had never been on display before. People trying it enjoyed this new model "an exciting development". This new wearable low vision aid will be presented at CSUN expo 2020 in March as well. Please come and pay Zoomax a visit to see if it can help with your visual life.
Snow 12, portable video magnifier with great writing space and OCR functions, had been popular among student groups with visual impairment. Elisa W from Alachua Public Schools said "it was a very positive evaluation" after they had tried a loaner unit of Snow 12 for over a month in the school.
Every year, ATIA hosts an international conference for visitors globally to learn about new, innovative results in assistive technology. Visitors included veterans administration hospital representatives, special education specialists, assistive technology startups, blind center staff, and people from low vision and blindness communities.
Please click to know more about Zoomax's previous performance in ATIA in 2019, 2018, 2017, 2016, 2015, 2014 and 2013.