Zoomax recent post 10 Benefits You Will Get from a Video Magnifier received some comments. One of the Facebook comments is greatly worthy of consideration: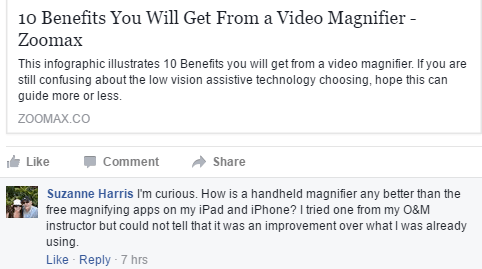 Good question. Let's make some analysis first:
She uses smartphone and tablet PC as habitually.
She tried video magnifier but thought it just so-so.
Our suggestion is:
App is good enough for this lady and maybe there is no extra need for her to buy another video magnifier.
Why does this conclusion be drawn?
Reasons:
Smart phones and tablet PC are her requisites in common use;
She can distinguish the button on app;
She has no special requirement of amplification.
However, we also would like to illustrate some features of handheld video magnifier not prevalent on apps:
Handheld video magnifier provides a comfortable reading experience. Since the Reading Stand can raise the reading height, to a certain extent, it could provide an angle to ease neck strain. Some apps require constant holding the device at a particular height to keep the focus. But for handheld video magnifier, that concern can be completely unnecessary.
Some handheld video magnifiers provide users with easy switch between reading and distance viewing with special camera.
Continuous turning on/off the camera of your phone will use up the battery soon. And that may lead to an insufficient use when you gaming, safariing, calling or anything your smartphone is mainly for.
Handheld video magnifier would not be suggested if these features couldn't attract the current app users who satisfied with the app functions; cost-effectiveness is one of the major reasons. We always emphasize the necessity of professional advice before purchasing any assistive devices: ophthalmologists can help you choose the most suitable one, and the most suitable one is the best one. What's more we have introduced some apps for the low vision and blind people to enrich abundance of AT choices.
So, what kind of people will in greater need of handheld video magnifier than smartphone apps? For whom will the handheld video magnifier be more recommended than apps? Here are our opinions for reference:
1. The elderly and young who have low vision
With the development of technology, a substantial increase in phone functions and other electrical equipment, it can be a big challenge to the elderly to use.
Besides, to avoid physical damage on important communicational function, parents would prefer their little kids to use professional assistive aids rather than a smartphone.
It is also acknowledged that parents always fear for their kids to be phone addict, when they become old enough to operate other apps.
2. People with severe vision impairment
Buttons on the smartphones would be much smaller for some people who have severe vision impairment. Most handheld video magnifier adopts more human-centered design with tangible and tactile buttons in high contrast color against the device. That would be barely achieved on current smartphones.
3. People requiring bigger image
10 magnifier apps randomly selected from App Store among which only two clearly marked their enlargement higher than 10x, compared with most handheld video magnifiers (highest magnification range from 10x-20x). Low magnification cannot meet some people's need with vision loss and much stricter amplification demand.
4. People who hate ads
Nothing could be more annoying than the jump after an accidental click on ads when you're deeply fascinated by the latest chapter of your favorite novel. Well honestly, not all the free apps show ads. However, handheld video magnifiers can provide you with a wonderful reading experience without any advertising interruption, definitely.
5. People wanting other special functions
Some handheld video magnifier is equipped with special functions, including OCR and text-to-speech and reading line. These technical innovations are rarely applied by magnifying apps on smartphones. Or, if you find one with special function that was not implied by a handheld video magnifier, please kindly inform us and we would be very likely to test it.
Click to check a 30s YouTube video demonstrating the OCR TTS function of handheld video magnifier.
6. People prefering comfortable use
We tested a magnifier app (rating: 4.5 of 5) installed on iPhone 6s together with M5 handheld video magnifier to check the difference between them.
① When viewing magazine, tester had to place the iPhone above the magazine and keep the height to get a clear image. If put as the M5, app showed vague image.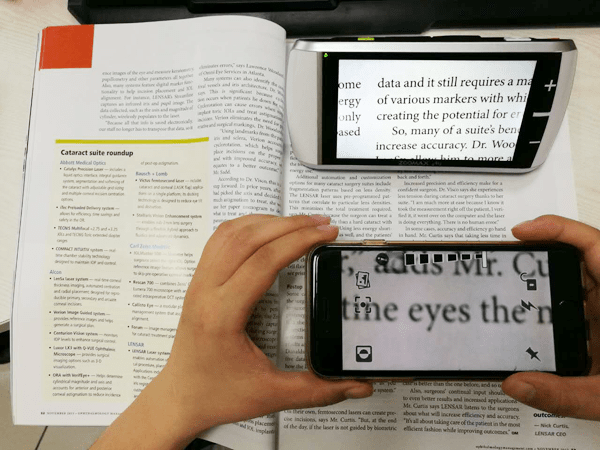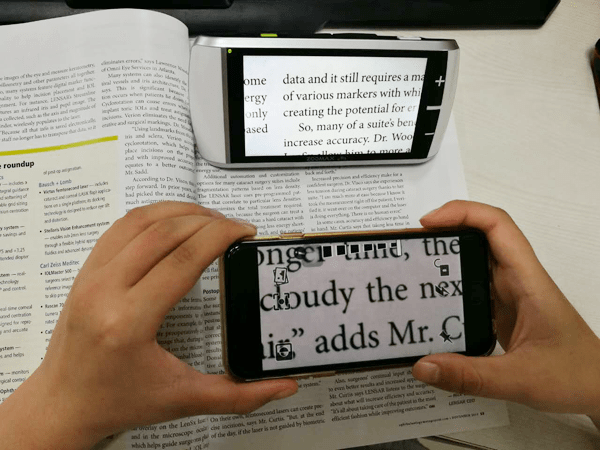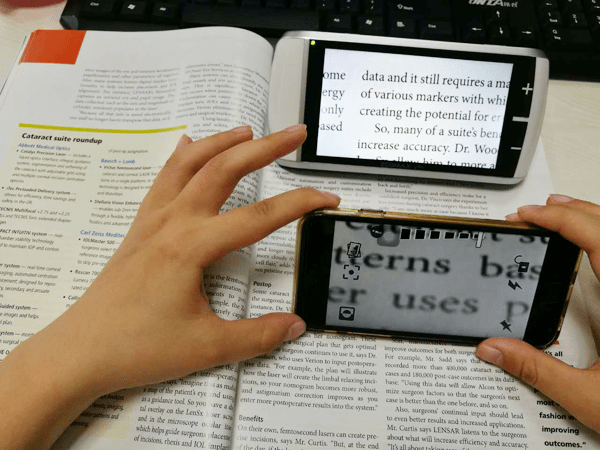 ② When tester zoomed in to maximum magnification, the view on the app got quite vague and couldn't display a letter fully.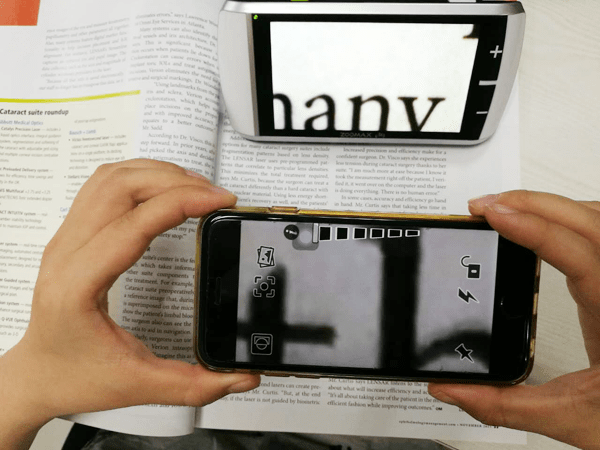 ③ At the highest magnification the blurred view on screen jittered fiercely. When lifting M5, tester still had clear image. Software avoided motion blur.
The above mentioned are our views.
In short, if you think the app you are using now is full applicable, there is no need to purchase a handheld video magnifier any more. Or, once the apps couldn't match the needs, just try a demo of a handheld video magnifier, or contact us to get suggestion.