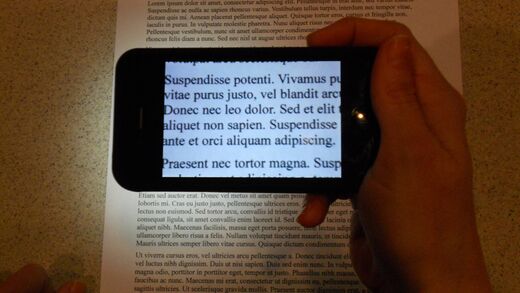 One of the most common challenges that many blind and visually impaired people experience on a day-to-day basis is coping with their impairment. Equipment such as Braille writers and readers, desktop and portable video magnifiers, money readers as well as computer software have greatly enhanced the lives of those who are blind or visually impaired.
Technological advances are made almost daily and now there are many apps for your smart phone available to assist those who are visually impaired. There are apps that can help you identify colors and money to ones that help you navigate both near and far.
To find out what apps are available you will need to check out the iTunes store or Google Play Store depending on if you have an Apple or Android device. Here are a few that you may want to explore.
See It is a handheld video magnifier that works by streaming a real time video feed to your iPhone or iPad's screen from your device's back-facing camera. You can zoom the feed in and out, and apply image filters to make things easier to see. Also, for devices that support it, you can turn on your device's flash light for extra illumination and a sharper image.
Claro MagX, a High Definition Vision Enhancement App for Zooming and Magnifying, turns your iPhone, iPod Touch or iPad into a powerful high definition visual magnifier. This app allows you to make small text in books and newspapers readable, study and photograph small objects and labels, as well as see menus in dimly lit restaurants. It offers a wide range of magnification, and has high contrast and color viewing options which make it even easer to read text.
If you are using an Android device you might take a look at Magnify: This app turns your phone into an instant digital magnifying glass equipped with a flashlight. The app is great for reading tiny print and can be used in places with little or no light such as restaurants and movie theaters.
The app works best when you keep your phone at a distance of at least 4 inches from an object. There are controls to enhance focus and you can manually turn the flashlight on or off to save battery. Basic on-screen gestures are also supported.
TalkBack is an application that is part of Google's Android Accessibility Service, designed to help blind and visually impaired users with using their mobile devices. What does this mean? To sum it up, TalkBack will greatly assist those who are blind hear what they are trying to do with their mobile phone as the app will tell them the item that they have just selected or picked. The app is also capable of reading texts aloud. Every movement the user makes on his or her phone is carefully being monitored and spoken by the app.
WalkyTalky is a very useful app and one of many by Eyes-Free Project that helps blind people get along with their daily lives. The app has a great navigation aid that helps those who are blind or visually impaired navigate city streets at home or across the country. Users are able to get instant updates on their current location. This app has a built in compass and will always point to the right direction. If a user gets lost, the app will automatically vibrate and tell the user that he or she is going the wrong way. For tips for low vision people travel, please check Tips for Visually Impaired People Taking Public Transportation.
Some apps applying GPS technology could be found here: GPS Technology Enhances the Lives of the Visually Impaired
There are many other apps available that can make your life easier. It is worth the time and effort to explore which ones may be right for you.