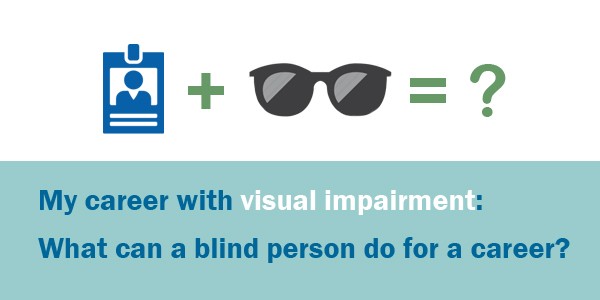 "Best" Jobs for the Low Vision/ Blind?
Over the years many people as they have gotten to know me have asked "what are the best career options for the visually impaired and blind". I had never thought about it but there seems to be an assumption that there are jobs that are ideal for the blind and visually impaired based on their unique characteristics and limitations. I am thrilled to disappoint you!
Blind and visually impaired people are normal people who lack eyesight. For instance, a manager that loses his or her sight still retains all the knowledge and skills they've acquired over a lifetime of employment. These include analytical and motivational skills, and the ability to set and implement goals. What has changed is that they can no longer use visual skills to do these things anymore. They have to rely on a whole different set of sensory skills and an alternative way of doing things.
How Did I Plan My Career with Vision Loss?
What can a blind person do for a career? Almost everything! With that being said I will share a little bit of my own experience.
In high school
When was 15 years old I knew I wanted to be a Journalist. I was taking Journalism classes and working on the newspaper in high school. Writing and justice were my passions. They still are today. Over the years I have tweaked my career path time or two due to vision changes and changes in my own way of thinking.
In college
I went to college on the East Coast and although I never saw very well it was during this time that my vision declined even further and there came a day I could no longer pick up a text book and read the print. This was decades before technological advances came along offering large print, text to speech, CCTV's or video magnification. Telescopes and prism magnifiers were the best assistance anyone could offer.
Work during college
I was a full time college student and I also worked full time at The Exchange Network in Methuen, Massachusetts. The Exchange Network was an answering service for doctors, veterinarians and a variety of other businesses. It was my job to take messages and reach out and locate doctors after hours when needed for medical emergencies and consultations. We reached these doctors through their home phones or various paging systems. Cell phones had not even been thought of at this time and computers were in their early stages.
The company was owned by Bunny Hamer and was started years before by her and her husband who were both completely blind. When the couple started their business venture all phones were answered with cord board technology and was an ideal career choice for the blind and visually impaired. Over the years the Hamer's employed many of the visually impaired. Cord boards were easy used by the visually impaired because touch and sound were used to answer the lines and make outgoing calls.
Career began
By the time I came around to working at the Exchange Network there were no longer chord boards because technological advances in communications had changed things drastically. I did not work with anyone who was visually impaired but I do think I was designed to be in this career opportunity for a reason. I had no idea at the time but it was a foreshadowing of things to come. It was during this time that I learned that my vision had begun to decline and I was deemed legally blind. Mrs. Hamer was both a great inspiration and support for me.
As the years passed I pursued my journalism career and tweaked it to include marketing which allowed me to pursue my love of writing and art. I have had the opportunity to do what many fully sighted people wish they had the opportunity to do.
Limitation & Chances for Visually Impaired People
Unlike those who are totally blind, those who are legally blind usually have a limited amount of vision. Many are able to read large print and identify shapes and colors, but are unable to drive. Computers and technological advances have opened up a wide range of careers for the legally blind giving them the ability to change the text size on the screen and the option to read text out loud.
Ideal choices for those who are legally blind are jobs which allow most of the work to be done over the phone. For some, telemarketing may be an ideal choice. You are often given a script that you present and scripted arguments help offset a customer's objections. You can memorize the script or use a large-text program that allows you to view it on a computer screen.
Another great choice may be customer-service. Call center customer-service jobs, such as those that allow you to assist customers who are placing product orders may be a perfect fit. You must be properly trained and become familiar with the company's products and know how to find them in the company's system, but technology designed to assist you in reading text on a computer screen can make that possible for you.
Media and marketing may be other avenues for the visually impaired to pursue. If you enjoy writing, there are many options. There are free-lance opportunities available in many areas. Many times you can write for newspapers or magazines as long as the interviews are typically conducted over the phone or by email. Good public transportation also allows you to do interviews in person. You may also find a career in advertising, writing scripts for commercials and catchy copy to reach customers.
These are just a few of the employment opportunities available to those who are blind or visually impaired. With the proper training and a little heart, you can achieve any goals that you set for yourself and for the most part can pursue any career you choose.
Related information: Career Choices of 5 People with Vision Loss