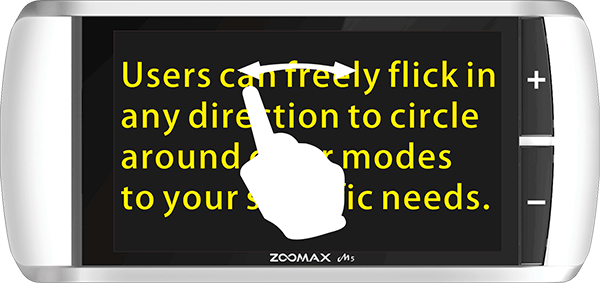 First "2HD" Touch Video Magnifier for People with Low Vision
Zoomax, the world's leading developer and manufacturer of low vision products, announced the release of their latest product: the Zoomax M5. M5 is the first 5″ handheld video magnifier on the global low vision market that employs a "2HD" design, utilizing a High Definition (HD) camera in conjunction with an HD touchscreen.
"We are proud that Zoomax is able to bring to people with visual impairments a product that utilizes latest human-computer interaction technology."

said Zoomax Chairman, Mr. Vincent Lee.
"Empowering people with low vision to gain independence and remain active are our main goals at Zoomax. We see M5 as a breakthrough product, designed to provide the best image quality of any handheld video magnifier, along with the best user experience."
M5's innovative features make this new product stand out
The first "2HD" electronic magnifier solution for perfect image quality
Other HD video magnifiers offer an HD camera, but not an HD screen. Zoomax is the first developer to present a truly HD device, with both HD camera and HD screen.
The FIRST and ONLY combined touchscreen & tactile interface
Zoomax developed the first combined interface, adding power of touchscreen while maintaining tactile buttons that are familiar to users.
Easy-to-learn touch gestures
As other manufacturers implemented all functions into complicated touch gestures, Zoomax indicatively redefined touch gestures into simple, intuitive movements that utilize only two fingers.
"One-flick" design to change contrast color
With "One-flick" design, users can freely "flick" their finger in any direction on the sensitive touchscreen to cycle through 11 color modes in order to suit their specific viewing needs.
Easy panning of captured images
Any captured image can be magnified and then easily moved around on the touchscreen to view every detail in every part of the image.
Ultra-slim and lightweight, tailored for on-the-go
Thinner than 1 inch (20mm), M5 is supremely slim and lightweight with a beautifully crafted body and a weight of just 9.35 oz. (265g) for ultimate portability.
Other features
Magnification from 2.3X - 16X
11 color modes: 10 high contrast color modes plus full color
Auto-switch between near/distance-view
Save 60 images
Approx. 4 hours of continuous use
For more product information about M5, please click here.
Here we put one of the M5 product test review for your reference: Being Able to Read It Myself