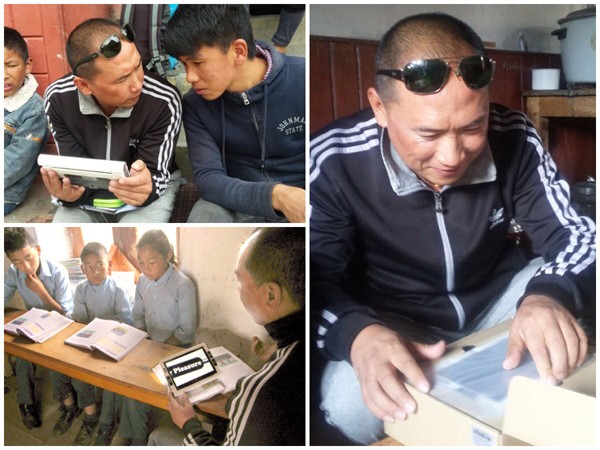 Zoomax made a contribution to Mr Mohan Gurung, manager of a boarding school in Jharkot, Nepal which is supported by Schule macht Schule, an Austrian charity organization leading the project Nepalprojekt des Musischen Gymnasiums Salzburg (The Salzburg Music Grammar School's Nepal Project) with the best-selling electronic magnifier Snow 7 HD.
Mr Mohan Gurung, suffered an accident in March 2012, which led to retinal detachment in both his eyes, is in need of "portable device such as the Snow 7 HD, which can work both with a TV/computer screen and as a portable electronic magnifying glass. The wherewithal to make distant objects legible/visible is also vital." to facilitate his management of school, agencies and authorities works as well as the education commitment. In this case, Sarah Marchant, member of Schule macht Schule, wrote Zoomax an email to request possible support for Mohan's work.
At the request of "whether you would be able to donate such a device for Mohan's use, or at least make a concession in the price", Zoomax chose the first, supportive one. When the Snow 7 HD device was delivered to Austria, the team brought this magnifier with blessing for Mr Mohan and the students to Nepal. Thanks to the dedicated members: Sarah Marchant, Tenz Mohan Lama, Elisabeth Minimayr, Karin Inmann, Daniela Schmiedhuber and Christina Klaffinger.
2 months after the endowment, we receive feedbacks from both Schule macht Schule team and Mr Mohan Gurung:
"Mohan was very happy to receive the SNOW 7HD. It is a big help - even for us: Mohan being able to read the accounting files or go through meeting protocols like the rest of us made discussions much easier and more effective. In fact it will need some practice to use the tool to its full possibilities, but the start was just amazing!"

From Christina Klaffinger and Wolfgang Pichlmüller.
Mohan's review is posted in Product Reviews.
We would like to express our sincere gratefulness to everyone who trusts Zoomax and every organization with great humanitarianism. If you are interested in their project, please check Schule macht Schule official website to learn more.
Related information:
(German/English) Schule macht Schule Facebook update - Zoomax Snow 7 HD