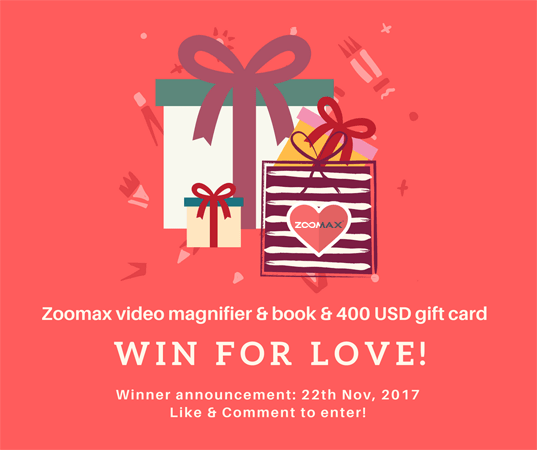 Confused to choose a gift for your visually impaired family member or friends? We've got you covered: enter Zoomax Win for Love lucky draw!
You will have chance to win:
A free book you commented;
A free handheld video magnifier (Your choice! From M5, M5 HD Plus, Snow 7 HD and Snow 7 HD Plus);
And a free 400 USD gift card (for new Zoomax products released after 1st Nov, 2017)
Wednesday 22th Nov 2017 the winners will be announced on Zoomax Page.
Enter Win for Love!
FAQ
Q – What can I do with the gift card if US Dollar is not an official currency of my country?
A – For European winner the discount will be 400 EUR. Winner from other countries in which US dollar is not a currency, equivalent coupon of 400 USD will be offered.
Q - How to take the prizes?
A -

Book: Books will be order via Amazon and delivered to address specified by the winner.
Gift card: An email indicating a discount amount will be sent to the mailbox you enter. To avoid SPAM, there will be no image of a card-like picture. Show your supplier this email when buying to get a discount.
Video Magnifier: Same as books, the video magnifier will be sent to your specified shipping address.

Q - When can I use the gift card?
A – The 400 USD gift card has an available time of 6 months. We will send the gift card email to you before 31 Nov 2017, and you can use the discount during 1st Dec 2017 to 30th June 2018.
Q – Where can I use the gift card?
A – The dealer of Zoomax will be nominated in the gift card email as well as their contact information so you can easily reach them out.