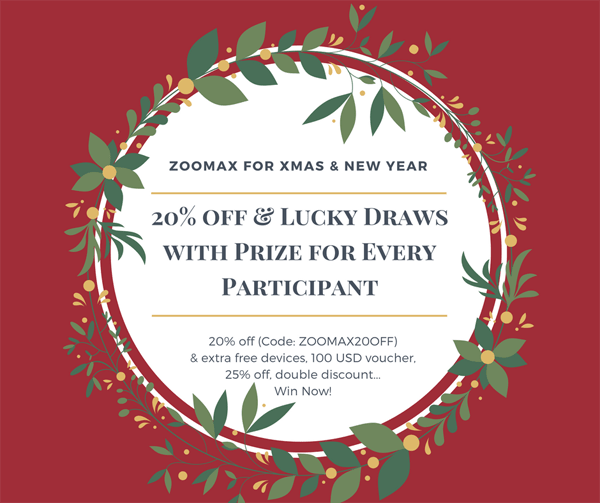 Zoomax is having 20% off in Zoomax USA Online Store. Promo period is from today to 31 Jan 2018. Use CODE: ZOOMAX20OFF
Additionally, from today to 31 Jan, 2018, Zoomax Facebook Fan Page has 2 lucky draws. You will have chance to win:
20 USD off voucher for every participant in each draw
100 USD off voucher (1 winner every day)
Snow 7 HD Plus video magnifier with text-to-speech function (1 winner on 25th Dec 2017 and 1st Jan 2018, 2 winners in total)
in Lucky Draw NO.1 and
25% off voucher for Zoomax next video magnifier (4 winners on 1st, Jan 2018)
in Lucky Draw NO.2!
How to win? Say your Christmas or New Year blessing to your friends and family members, or guess the screen size of Zoomax next video magnifier. Enter now!
All the vouchers are available before 30th June 2018. Enjoy the Online Store discount and the prize together!
FAQ
Q: I entered both draws. Can I have 40 USD off voucher?
A: Yes!
Q: Can the referral get anything?
A: Except the video magnifier prize, every voucher you get will be offered to your referral too. If you want, you can use two vouchers together to double the discount.
Q: I can't get into your USA Online Store. Can I have the discount too?
A: Leave us a message in the Facebook lucky draws comment and we will get in touch with you soon.
Q: How can I use the voucher?
A: If you make purchase in the Online Store you can use the CODE we send you in email. Otherwise, send an inquiry email to [email protected] when you want to buy a Zoomax product. We will offer you the dealer information and let them know your discount.
Q: When and where can I see the "next" Zoomax video magnifier?
A: The "next" Zoomax video magnifier will be displayed in ATIA conference in Orlando, FL. Ask your dealer to check it out in our booth #703 from 31st Jan to 4th Feb 2018.
Q: What can I do with the gift card if US Dollar is not an official currency of my country?
A: For European winner the discount will be in EUR (for example, your prize will be 40 EUR if you enter both lucky draws instead of 40 USD/34 EUR). Winners from other countries in which US dollar is not a currency, equivalent voucher will be offered.