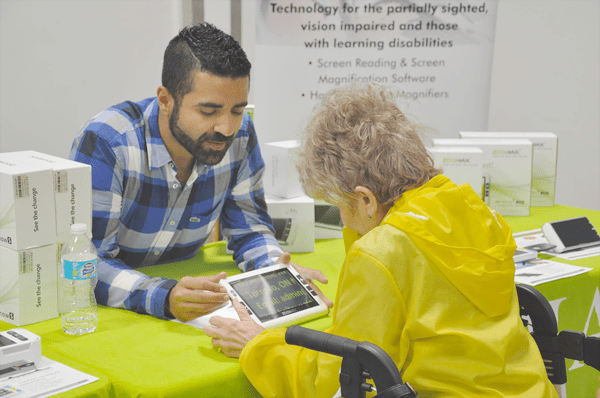 The CNIB Simcoe/Muskoka 2017 Technology Fair came to a close last Tuesday, 24th Oct 2017 in Barrie, Canada, representing a wide range of assistive technology fields for people with sight loss including the latest high and low-tech assistive devices. Canadialog, exclusive agent for Zoomax in Canada, joined the event with Zoomax full line products.
CNIB, one of the most influential organizations for blind and partially sighted people community in Canada, now is entering its 100th year of operation. Its Simcoe/Muskoka 2017 Technology Fair attracted many leading vendors of assistive technology for people with sight loss.
Canadialog, an exhibitor of the Fair, is a provider of low vision and braille solutions based in Canada. Their products for both blind and low vision people cover a wide range from basic optical magnifiers, accessories to advanced video magnifiers and screen readers. They are also featured in consulting services in web accessibility building and design in transportation accessibility. As the regional agent of Zoomax, Canadialog brought the users Zoomax professional solutions and received comments from plenty of users on video magnifier products in the CNIB Technology Fair.
"We are getting positive feedback about the Zoomax 7 HD, the old (Snow 7 HD) and new one (Snow 7 HD Plus)."

Mr Jad Nohra, managing director of Canadialog.
More information is available on CNIB Facebook page https://www.facebook.com/myCNIB/ and Canadialog Facebook page https://www.facebook.com/canadialogg/
For other feedbacks of Zoomax products, please visit Zoomax Review page.