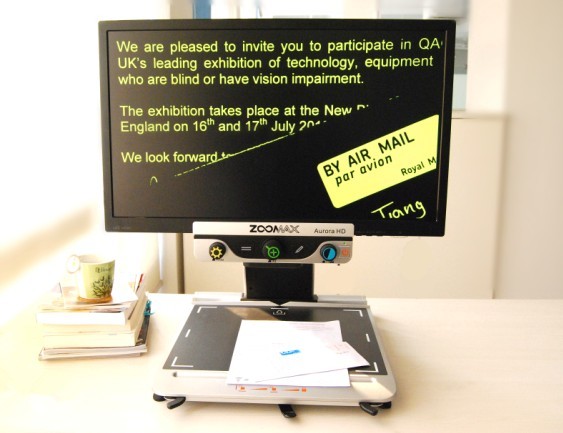 To save more benefits for low vision consumers, Zoomax upgrades Aurora HD (high definition) 24″ desktop electronic magnifier comprehensively both on software and hardware, which makes it the most cost-effective desktop electronic magnifier ever.

For most low vision consumers, what they mainly concerned is the cost and performance of the HD desktop electronic magnifiers which are great devices to see clearer for visually impaired people at home and work. Choosing the right HD desktop magnifier should obey the following rules: easy use, crisp image at any magnifications, high contrast colors, real time focus and reasonable price.
Since the launch of Aurora HD, it has already been widely approved of its high cost-performance by distributors, low vision organizations and end users worldwide.
With all the features users concerned, Aurora HD is designed with the availability to the most users suffering eye problems such as diabetic retinopathy, macular degeneration, cataract, glaucoma and other diseases. Users can read whatever they want clearly and comfortably, such as newspaper, magazines, medicine prescription and mobile phone.
In 2014, Zoomax fully upgrades Aurora HD both on software and hardware. It provides much sharper image and higher contrast color than ever, the brand-new package and much more attractive price over the global market. Zoomax will also provide the high quality product and the best before and after sales service as always.
Welcome distributors and users to contact Zoomax for more information.