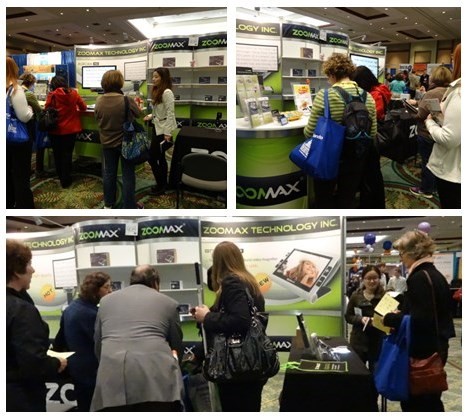 At ATIA 2014 Orlando USA, Zoomax kept shining on the low vision products as before.
Zoomax not only displayed a series of handheld and desktop video magnifiers to all visitors, but also demonstrated the fully new 7″ HD portable magnifier Snow 7 HD which was highly expected among customers before launching into the market aiming visually impaired groups.
After learning and having a wonderful operational experience on Snow 7 HD, both professional ophthalmologists and users gave their kind and favorable comments on this product.
"The design of Snow 7 HD is really cool and compact. Its size and weight are just right for bag, just like carrying a book. I'd like to use it at school."
"I like Snow 7 HD because it's very easy to use for me. I like its intuitive buttons, simple operation system, wide screen and very crisp image quality. It's quite good for me to see the pictures and newspaper at home."
"I am a distributor. I have a great interest on this product. Just unlike normal handheld video magnifier, Snow 7 HD can see far clearly almost up to about 5 or 6 meters and the high contrast color of machine and image on the screen are really easy to identify by customers. These are very attractive to me."
Most distributors and end-uses showed a great interest in the purchase of Snow 7 HD. These encourage Zoomax to research and develop more featured low vision equipment to satisfy the needs of low vision people.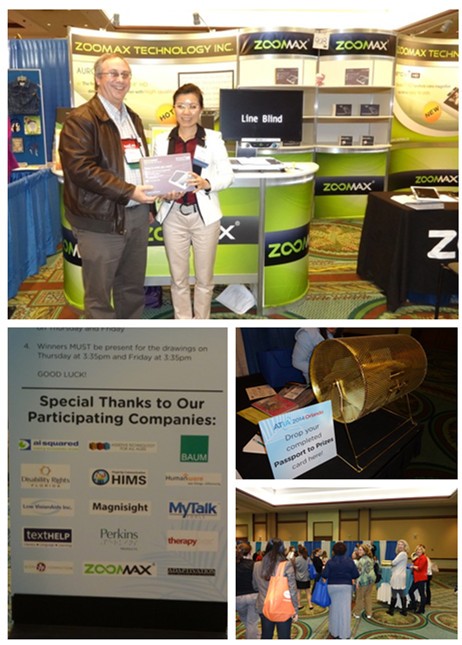 As the participating company of ATIA 2014, Zoomax provided the highest valued prize for the visitors to thank all the customers who concern about Zoomax all the time. Here we'd like to congratulate Bryan Ayres who won Snow 7 HD on Friday at ATIA in Orlando. Congratulations!
More information about Snow 7 HD.
Please click to know mbout Zoomax's previous performance in ATIA 2013.