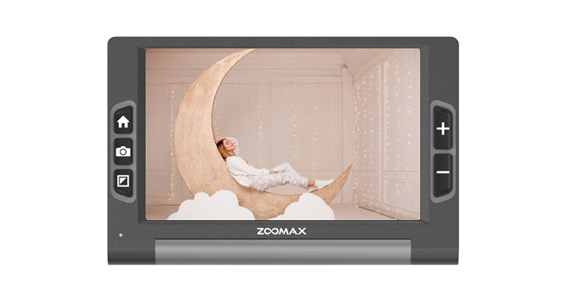 The Zoomax latest electronic video magnifier, Luna 8, is online at Zoomax official website now.
Luna 8 is an 8-inch handheld video magnifier featuring stylish look, great portability, and excellent simplicity. For people with low vision, Luna 8 is a perfect companion. Send us an inquiry now!
Why Named Luna
Luna is from the Latin word lūna the moon. The reason why it is named Luna 8 is simple. Luna is elegant, brings light in the dark, making vague things look clear. It shares the sheen with everybody despite who you are.
We hope this electronic video magnifier can benefit people in the same way.
There are lots of electronic video magnifiers with advanced high tech. However, when it comes to the basic and less "profitable" ones, consumers don't have many choices. We launch the "back to basic" Luna 8 as a better support to low vision community.
Uniquely Basic
As mentioned above, Luna 8, as the latest low vision aid, has basic functions only. The zoom in/out, high contrast display, image frozen functions seem available on lots of video magnifiers. However, Luna 8 makes itself unique.
Simple
Using Luna 8 is very simple. It is designed for reading. If you or your loved one prefers something easy, Luna 8 is your #1 choice.
Press + button, and the words zoom in;
Press – button, and the words zoom out.
Press the Mode button, and the color mode will change.
All advanced settings are easy to navigate in Menu, which you can open by pressing the Home button.
See Clear
Luna 8 captures what you read via a 13-megapixel camera, displays it on a Full HD 1920x1080 screen, and magnifies everything up to 19x.
Imagine an apple. An apple is how a 3mm character "@" looks like on Luna 8 screen in the highest magnification.
If you did a visual acuity test before, this zoomed-in "@" also has the same size as the biggest letters on the top of the Snellen eye chart (6m test distance). If your eye condition allows you to see them, Luna 8 matches your need.
Long Use
Luna 8 weighs 500g. It is 14% lighter than another 8-inch electronic video magnifier released 3 years ago. You can easily carry it around.
Keeping the portable weight and size, Luna 8 remains an excellent 4.5 hours battery life, while some other video magnifiers last 2-3 hours. During the time you can finish the book Mrs. Dalloway, or travel from Prague to Vienna by train.
More Information
To explore more about Luna 8 electronic video magnifier, please visit Luna 8 product page at https://www.zoomax.com/low-vision-products/8-inch-handheld-video-magnifier-luna-8.html.
If you would like to have a further update about availability, quote or demo, please subscribe to our newsletter.