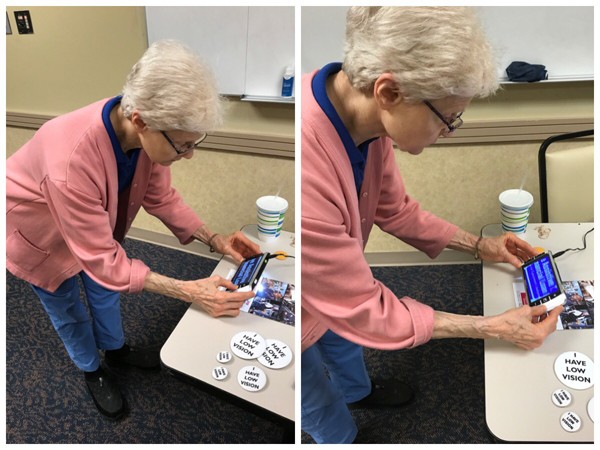 Zoomax provided a hot product handheld video magnifier M5 HD Plus as support to visually impaired people to join the Maryland Department of Disabilities Technology Assistance Program (MDTAP) this summer.
The Maryland Department of Disabilities Technology Assistance Program, known as MDTAP, is one of programs held by MDOD that provides consumers with a range of projects to participate trying the latest assistive technology as well as equipment demo and loan.
In MDTAP's assistive technology library people with vision loss now can try a new assistive device among various equipment. Zoomax, holding the low vision program Better Vision, endowed a handheld video magnifier M5 HD Plus to the library to enrich choice of visually impaired people.
M5 HD Plus offers storage for up to 60 images, adjustable reading line and masks and easy 2-way panning when viewing magnified frozen image. The key role of improving independency in daily life with vision loss is well shown with uniquely clear view and complete functions in simplistic design.
Assistive technology specialist in Maryland Technology Assistance Program Denise Barton Schuler sent the image feedback from a low vision support group member viewing flyer with M5 HD Plus in high contrast color, which is shown at the head of the page. The device additionally offers HDMI connect to monitor/TV allowing people to view on bigger screen. Community Access Center tried the function with M5 HD Plus in June 2017.
For visually impaired people in need of trying Zoomax M5 HD plus, please visit 2301 Argonne Drive, Rm T-17 Baltimore, Maryland 21218 or website www.mdtap.org. Video instruction is also available on Youtube.