Our donation to NAB (please see the link M5 Donation to NAB: Better Vision, Better Future) received a letter of appreciation today!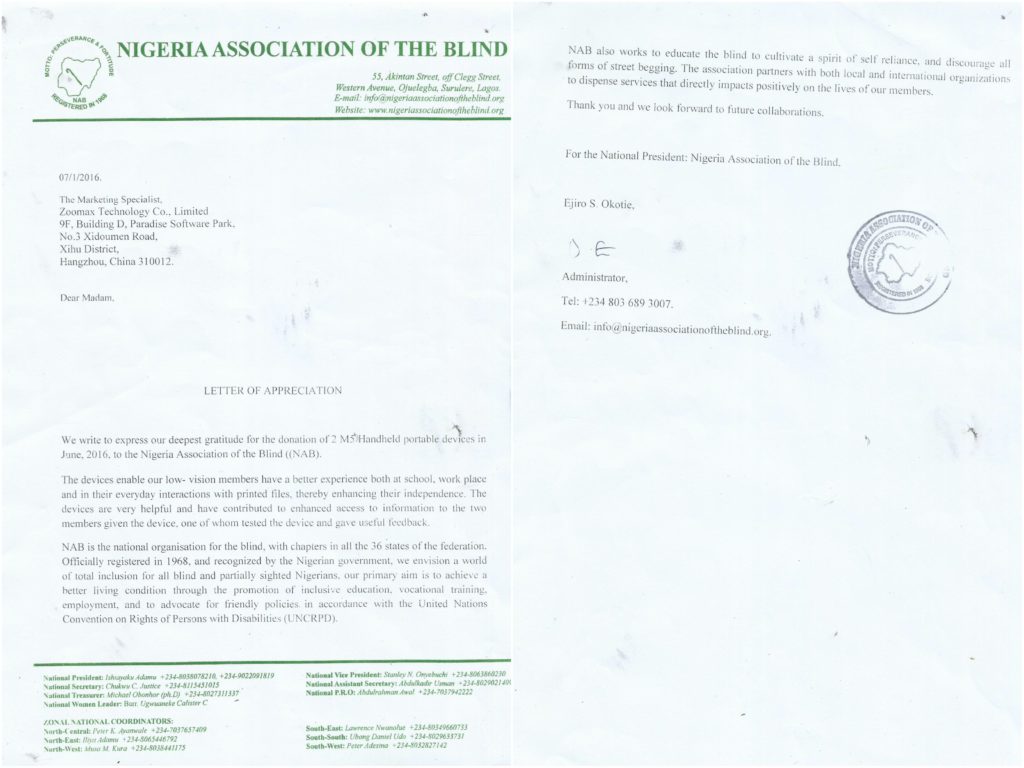 Here is the full text:
---
LETTER OF APPRECIATION
We write to express our deepest gratitude for the donation of 2 M5 Handheld portable devices in June, 2016, to the Nigeria Association of the Blind (NAB).
The devices enable our low- vision members have a better experience both at school, work place and in their everyday interactions with printed files, thereby enhancing their independence. The devices are very helpful and have contributed to enhanced access to information to the two members given the device, one of whom tested the device and gave useful feedback.
NAB is the national organization for the blind, with chapters in all the 36 states of the federation. Officially registered in 1968, and recognized by the Nigerian government, we envision a world of total inclusion for all blind and partially sighted Nigerians. Our primary aim is to achieve a better living condition through the promotion of inclusive education, vocational training, employment, and to advocate for friendly policies in accordance with the United Nations Convention on Rights of Persons with Disabilities (UNCRPD).
NAB also works to educate the blind to cultivate a spirit of self-reliance, and discourage all forms of street begging. The association partners with both local and international organizations to dispense services that directly impacts positively on the lives of our members.
Thank you and we look forward to future collaborations.
For the National President: Nigeria Association of the Blind,
Ejiro S. Okotie,
Administrator
---
Related information:
User Feedback: M5 is "Very helpful in my reading and writing!"