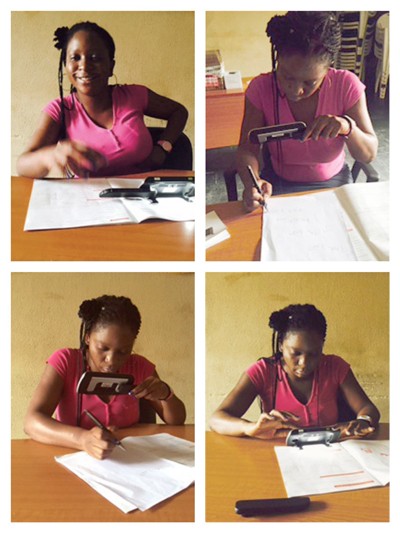 At early of June, 2016, Zoomax handheld video magnifiers M5 arrived at a special place - Nigeria Association of the Blind (NAB). NAB is the national body of the blind in Nigeria, officially recognized by the Nigerian government and have chapters in all the states of the federation including the Federal Capital Territory (FCT). NAB and Zoomax both aim to achievement of a better living condition for all blind and partially sighted persons. This time, M5 was received as a donation for student assistance of education promotion.
The donated device, M5, is a unit with crisp image which supported by high definition camera and high definition screen, as it is equipped with a 5″ touch screen. 2 buttons (zoom in and zoom out) and 1 flick enable the user to make the conventional reading, and all the operations can be controlled with other simple 4 gestures. We believe it is the good usability that delighted the girl.
It is obliged for us to have feedback of this unit not only for the reputation but also for the suggestions (see the link: M5 is very helpful!‍), which is regarded as an important way to improve Zoomax's service.
Highly social responsibility is just as important as innovative technology, especially for an enterprise engaged in low vision field which requires good humanistic cares. If you are from organization or school and want to cooperate with us, welcome to contact us through [email protected]
Let's join together for a brighter world.