Do you know Zoomax Snow 12? Many people search for ZOOMAX or ZOOMAX SNOW 12 on Google. Do you know why? -- Snow 12 is one of the most popular low-vision portable video magnifiers on the market and has devoted followers all over the world.
Zoomax Snow 12, the best large-screen video magnifier
As assistive technology designed for visually impaired or legally blind individuals, Zoomax Snow 12 is desirable, intuitive, and user-friendly. People with low eyesight are aware of Snow 12's advantages in a variety of ways, and recognize its value through communicating with each other. We talked with some of the Snow12 users. In this blog, let's see their feedback and stories and learn more about how and why Snow 12 has benefited those with low eyesight.
"Snow 12 has had a significant impact on my life"
"Snow 12 has had a significant impact on my life", said Mandy van Flensburg, a 52-year-old former biology and Dutch teacher who has visual disorders including limited sight, and aging-related color deficits. As she loves reading, Snow 12's customization functions for adjusting contrast help her enjoy reading and writing better. She told us that she found Snow 12 produces images that appear even better than before, and that as a result, she is now better able to educate her grandchildren about biology knowledge and the Dutch language.
Based on the usage habits of people with limited vision, Zoomax Snow 12 provides low-vision users with an easy-to-use tactile button for performing tasks more easily and without unnecessary frustration. Paula Churchill, from British, has had eyesight issues from an early age. She told us that the responsive touch screen allows her to operate it more conveniently. She said it is an amazing thing that both the tactile button and touch-screen of Snow 12 seem designed for her! She can quickly use it without any further training. "The true thing about Snow 12 is that Snow 12 has an easily used touch screen with an excellent image," she recommended Snow 12 to her friends who are also visually impaired, "as you can trust Zoomax's low vision devices forever. "
OCR Technology and Powerful Navigation Function of Snow 12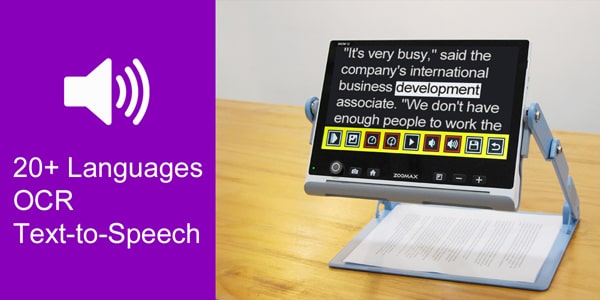 As we all know, OCR technology makes it possible for a speech synthesizer to read aloud the text that is displayed on the screen, allowing someone who is blind to hear what he is reading or viewing. Lots of Snow 12's users told us, the OCR text-to-speech and powerful navigation function help them in their studies and careers.
John Ivan, a law student at Michigan State University, had experienced reading fatigue as well as various degrees of visual impairment. Since 2019, he has become a loyal Snow 12 user. He mentioned that he is the one who benefits from OCR technology and the scan function of Snow 12. "Being a lawyer has been my dream. With the help of Snow 12, I've achieved my academic goals and gained confidence in learning", he said, "it is portable as an iPad but without the requirement for internet connectivity, it can be used to read any type of printed or saved digital material at the home, school, or even on the go."
"Snow 12 makes reading easier for me"
Navigation around the text is a major challenge for persons using electronic video magnifiers since it is frequently so enlarged that only a fraction of a line or two of text is visible – missed words or trouble locating the beginning of the next line often happen. Many users told us, Snow 12's reading line function is extremely useful for them to local text or track where they are when reading.
"Snow 12 makes reading easier for me," Colten Moran, 73 years old gentleman, told us that Snow 12 has saved his life. He found it challenging when operating complicated low-vision devices, and he also had trouble when holding hand-held magnifiers. Colten shared his experiences with others, saying that he now feels like he is prepared for more. And whenever he wants to use it, he need only slide over. "Snow 12 is an incredibly useful tool and is well worth the cost", he stressed again after the interview.
As the application of OCR technology, automatic reading can take the form of a lengthy row that scrolls across the screen, a column of text, or a word-by-word display. "I prefer a hands-free experience", said David Martines, "Snow 12 provides the perfect approach, I can scroll through the text by simply rolling the joystick. Yes, I don't have to move the materials that I want to examine." Daniel K also agreed with this point, but he believed that automatic reading is another great approach. "It allows me to can set the speed in advance," he said, "last year, I bought one for my grandfather as a thanksgiving gift, and he loved it!"
Be Fixed or Portable: Comfortable for Reading and Writing
As many low-vision users considered, if the video magnifier has to share space with other office equipment, space requirements are often a significant limitation. Therefore, compact design and portable features are more suitable for a variety of occasions. That's why thousands of individuals who are blind or visually impaired prefer to use the all-in-one assistive device Snow 12 every day, especially those who are traveling frequently for work or study.
"Snow 12 has lower weights, but features like desktop magnifier"
Much more like desktop video electronic magnifiers or CCTV, Snow 12 allows low-vision users to enjoy performing tasks beneath the screen without using their hands to hold All users need to do is install its accessories -- a foldable stand. Brynn Ryan is a freelancer who suffered optic nerve damage after a serious car accident. Now she is a freelance graphic designer and illustrator for a local publisher, currently residing in Sydney. "You might know I enjoy painting. I can paint anywhere thanks to Snow 12", Brynn informed us that Snow 12 is portable because of its lighter weight. When inspired, Brynn can use it anywhere—at home, in eateries, or while traveling.
"Like a laptop, it's very convenient to use on the train, or the plane"
The integrated camera of Zoomax Snow 12's 13 M pixels guarantee that it is appropriate for seeing any material, and those with limited eyesight will discover that it is easy to view in any light, although sometimes supplementary lighting is required. "You know, it allows to access reading and educational materials at all levels", Geoff Alexander, 30 years old IFP, who has to check a lot of pertinent documents before meeting a client, "I often take it with me on business. It's like a laptop. It's very convenient to use on the train, or the plane".
See more users' reviews about Snow 12.
Visually impaired people are a community group with considerable variability in their range of sight abilities. Therefore, it is necessary to take the prerogative of personal preferences into account before purchasing large-screen electronic video magnifiers. We believe that utility and usability are the primary factors that need to be taken into account for blind and visually impaired people.
It is fact that high image quality is always the core of any low-vision device. The major tradeoff of electronic video magnifiers, as we have mentioned above, is that the color image may not be as sharp as the black-and-white image, especially at high magnifications. Therefore, when purchasing a large-screen electronic amplifier, screen resolution and camera quality should indeed be taken into account.
Our suggestion: a 12-inch electronic video magnifier's screen resolution should above 1280×800.
According to most low-vision customers' feedback, normally, over 10-inch screen size makes it more suitable for people who need higher magnification levels, as most small-screen handheld amplifiers are incapable of providing effective amplification at high magnifications. Besides, small screen low vision aids or handheld electronic video magnifier lack OCR technology, which makes them unsuitable for low-vision users who rely on sound.
As most portable electronic video magnifiers on the market offer enlargement factors in integer multiples ranging from 2x to 19x typically (some magnifiers support 32x magnification), many users may feel confused, especially if they are recommended to buy a larger magnification.
Our suggestions: in general usage, up to 20 magnification levels are enough for most users. And it makes little sense to demand higher magnification.
Most people with visual impairment are elderly and often have hand tremors or suffer fatigue after even relatively short periods of having to support a hand magnifier steadily.
Our suggestion: lighter weight and being able to support the magnifying lens without using the hand to sustain a fixed lens-to-working plane distance is an attractive option (e.g. equipped with additional gadgets or support racks to enable hands-free use for specific subgroups of people with impaired vision).
Low Vision User Friendly
Some products on the market somehow need keyboard skills: multiple-key combinations can be a challenging combination of keys to hit and most visually impaired people, especially those who suffer from conditions such as serious memory loss and dementia. Even with the help of others, they may still fail to gain access to the devices or systems due to vision-related or other impairments.
Our suggestion: devices with indirect functionality and simple operation are much easier for persons with limited eyesight to operate than those with numerous functions but complicated operation, whether they're younger or elderly people.
Read more about How to choose a low-visions device?
More Questions about Zoomax Snow 12
For prices in the US, please visit Zoomax(USA)'s official website www.zoomaxusa.com. Customers from other nations who are interested in purchasing Zoomax low-vision devices can contact their regional distributor or Zoomax Offical e-mail (email: [email protected]).
Yes, there is.
Click here for the Introduction Video of Zoomax Snow 12
Click here for the User Guide of Zoomax Snow 12
Zommax distributors are all over the world, normally you could contact local dealers for repairs.
American users, please call (833)265-3324.
If your situation is unique or you fail to get in touch with the local distributor, please feel free to contact us directly and send the product back to our headquarters for inspection and repair.