Most people have new hopes and wishes when the New Year begins. Andy has his one, too. As a boy with vision loss, Andy had a hard time in the past. But sooner later, he benefited from low vision aids greatly. What type of video magnifier does he use? What did he discover when using visual aids? What is his prospect in 2023? Here comes the dialogue between Andy and Zoomax, sharing all the answers you may be interested in. We believe you will be inspired if you take a few minutes to read it.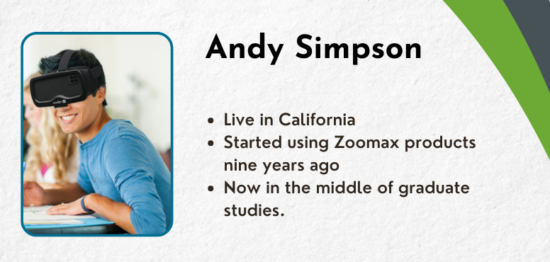 About Me
My name is Andy Simpson. Lots of people once asked me how to prepare for vision loss. Since I grew up with visual impairment, my eye doctors have given me a harsh diagnosis -- optic neuropathy (ON), and no effective treatment for ON until now. To be honest, it's not easy to accept the fact that I would lose my vision, especially when I am not old enough. Because of this, I can relate to many of the difficulties faced by the low-vision community.
"Zoomax liberates me from the constraints of low vision"
Zoomax: Do you remember when you first began using Zoomax products?
Andy Simpson: I used Zoomax since nine years ago. Once I used corrective lenses while I was in elementary school. When optical glasses were no longer an option, I resorted to digital video magnifiers to assist in my schooling. I tried out Zoomax products by chance, while at a regional expo for low-vision aids, my father came across Zoomax video magnifiers and bought one for me. I still remember when I initially used it, I could see the world with renewed clarity, as the image were excellent. Following that, I selected other Zoomax's low vision items. Now, I am able to enjoy my life without worrying about my poor eyesight, which thanks to Zoomax liberates me from the constraints of low vision.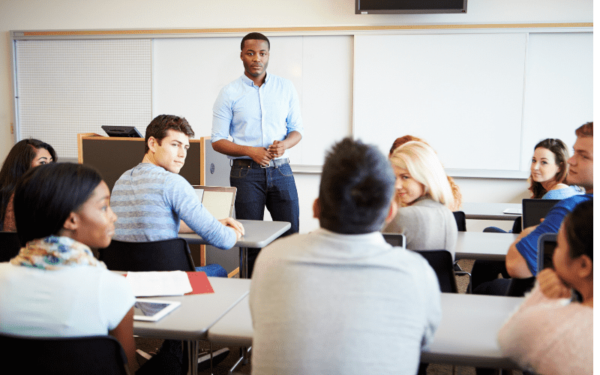 " Zoomax's products are tailor-made for the low-vision community"
Zoomax: Could you tell us more about what features of Zoomax products surprised you?
Andy Simpson: Well, as a customer who has used Zoomax products for years, I can confirm their high quality. Also, Zoomax low vision aids impressed me with their ease of use, fast imaging speed, and superb image clarity, as well as their compact size and lightweight. Now, I am using Snow 12 and Acesight VR as well, and my mother is using Luna 6. All of them are quite practical.  Speak of Snow 12, given the extensive fieldwork required for my master's program, the OCR feature of Snow 12 has proven invaluable in allowing me to complete some readings while traveling. You know, some devices have numerous features that make them too bulky or heavy for most low-vision people to use. I would not have picked such a device. Also, I know that the Zoomax people will respond rapidly and effectively to any issues that may occur. Some businesses, I know, will not be able to respond quickly.
Zoomax: Are there other people around you using Zoomax products?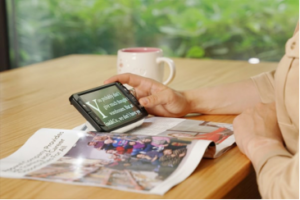 Andy Simpson: Yes, my Mom is also a Zoomax user. Like many elderly people, my mom had trouble in seeing things these years, so she uses Luna 6 since it has a built-in handle and wireless charging, which is hugely convenient for her. I have to say that again, Zoomax has great quality and excellent customer service after the sale. I am still using one product even though it was discontinued years ago, and we get assistance from Zoomax people whenever we have questions or concerns. That's why I have bought several of them over the years, as I know I can trust the quality and after-sales service of Zoomax forever. 
Zoomax: Have you used other low-vision aids? And do you think there is a difference in using compared to Zoomax products?
Andy Simpson: Of course. You're probably aware that the market is flooded with low-vision devices, but sad to say, not all of them work for me. Some items are cumbersome because of their bulk or sluggish images, or the interface is overly complex or requires extensive training before I can use it effectively -- I've tried lots of low-vision products but their clumsy user interfaces always ended up discouraging me from using them.  I've never experienced any picture latency when using Zoomax and it's a significant point for me. There are various Zoomax low-vision devices to match different requirements for me. Now, I also regularly use Acesight VR, which is a very useful low vision devices for distance viewing. Its excellent field of view makes it ideal for use in the classroom or while reading books. Given how helpful they worked for me during college time, I never leave home without them.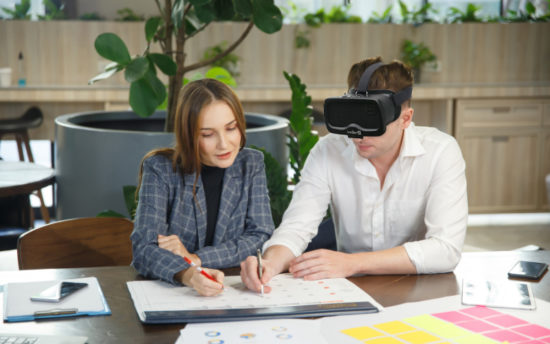 "I'm glad that many low-vision people live normally again because of Zoomax."
Zoomax: Based on your experiences with Zoomax, would you like to recommend Zoomax to your low-vision friends?
Andy Simpson: Yes, I am very willing to do so. Low vision aids are the greatest solution for people with sight decline. Since Zoomax's low-vision products are more diverse and high-quality, I can confidently recommend it to my vision-impaired friends. The product's intuitive interface, high-resolution images, and reasonable price are tailored to the needs of the low-vision community and contribute to the widespread success of Zoomax. Of course, I am greatly sure that what I have recommended would significantly enhance the lives of people with low vision.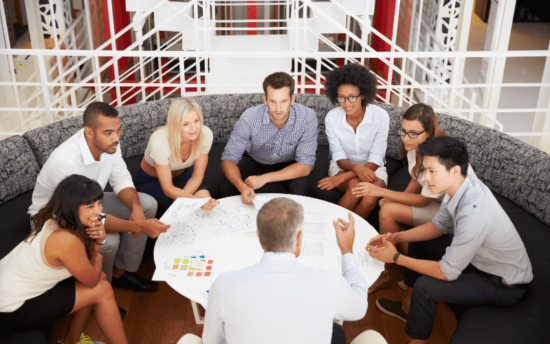 Zoomax: I notice you often post low-vision information online. Do you mind sharing your motivations about it with us?
Andy Simpson: Yeap, actually, the population of people with limited vision is likely to be far larger than is currently noticed by the public. Many people may feel stigmatized by their vision impairment and defined by it rather than other characteristics, how do I say, like the feeling of "not fitting in". I've experienced this too. In my opinion, the low-vision community would benefit much from information sharing or any kind of experience sharing. People like me are definitely up against more daily challenges than those with normal vision, and some of us may not always have the resources to stay abreast of the latest eye-healthy insurance policies, or other latest technology and research. That's my original intention for doing so - connecting with others, and providing more assistance to those with low vision or moderate visual impairment. Additionally, low-vision communities also need support and encouragement from their peers or others. If you or your friends and family are suffering from vision loss, please tell them visual impairment does not limit their academic or career pursuits. We can still do our best to improve it through technology or eye surgery to get the most out of the vision that exists. I think I am the existing example.
"2023 is a new start, and I'm looking forward to Zoomax's upcoming low-vision items."
Zoomax: We agree! Thanks for bringing your encouragement to those in need. Let's talk more about yourself. What is your plan for 2023?
Andy Simpson: I am currently studying for my master's degree and at the same time doing part-time work at the university secretariat where I am responsible for administrative matters related to student work. If things go well, I will complete my master's degree in 2023. Like I said before, thanks to Zoomax low vision technologies. I can live and learn independently as my sighted peers, which includes my academics and my work in the school secretariat. I recently received the Zoomax newsletter and discovered that the Zoomax team plans to release several new devices in 2023. I've made up my mind about which one is what I require.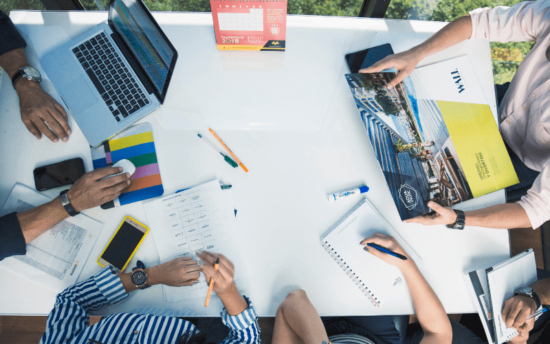 Zoomax: Is there anything you'd like to share about your New Year's aim?
Andy Simpson: Actually, I'd like to say, one of the greatest gifts we can give ourselves is the freedom for discovering our passion and purpose and pursuing our dreams. I hope everyone with vision loss will owe his true freedom. Moreover, I'm also looking forward to Zoomax's latest low-vision items. 2023 has a lot going for it -- a fresh start. All the best for the Year 2023!