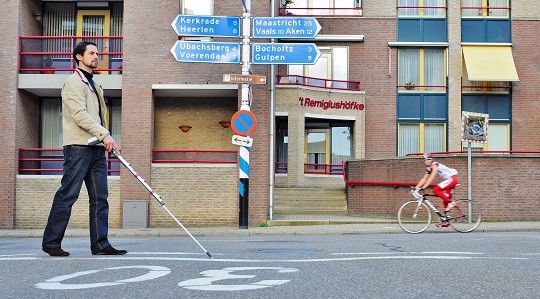 Although guide dogs and white canes are not new for people with visual impairments, mobility can be enhanced with the help of GPS technology. Today, those who are blind or visually impaired are navigating more independently than ever before.
GPS devices use satellite technology to provide auditory feedback to individuals regarding their position, direction of movement, environment, and routes. These could be dedicated devices or GPS technology may be integrated into other devices such as a smart phone, mobile device, or Braille note taker.
We live in a world that relies heavily on visual clues to navigate. Exploring a city or taking a walk alone has become less challenging for those who are blind or visually impaired. There are several apps available that meets the needs of the visually impaired with an easy to use interface. Talking maps allow you to explore the world around you by simply moving your finger around the map. Some smart phone applications allow you to explore a city and has the capability of sending a signal in the form of a vibration when crossing the street. Many have a favorite feature that can be used to announce stops on the bus or train. Some offer rotating maps that help keep you centered and offer a split screen so that you can see what is ahead in the top portion and what is behind you in the bottom portion.
There are several apps available for both the iPhone and Android phones.
One of my favorites is WalkyTalky (details and other information of WalkyTalky, please check Zoomax article: Some Apps for Vision Loss People with some more apps included), and it provides direct access to the walking directions component of Google Maps. This app reads directions aloud. It differs from the regular Android navigation app because unlike the traditional app, WalkyTalky also says the names of streets and intersections as you walk by and through them. This is a handy little feature that will help people (blind or not) keep their bearings.
Another of my favorite applications is Intersection Explorer. It is a touch exploration app. The app starts out at the your current location (you can change this by entering a different address). You can then touch the screen and move your finger along the app to explore the neighborhood. As you explore, the app will speak the directions and streets your finger is on. If you get lost, you can also trace your finger in a circle on the screen and the app will call out each street you pass over, along with its corresponding compass direction.
There are several apps that utilize GPS technology for the iPhone. One of my favorites is BlindSquare. This app also uses GPS and the compass to locate you. It then gathers information about the surrounding environment from FourSquare. It utilizes some unique algorithms to decide what information is the most relevant and then speaks it to you with high quality speech synthesis. You can ask questions such as "What's the most popular café within 200 meters radius? Where is the post office or the library?"
GPS technology has made navigation for the visually impaired much easier and there are more advances made daily and tomorrow's travel is brighter than ever.
Besides apps, for safer travel, here are some of the most helpful things I have found when traveling through the cities: Create a Accessible Public Environment for Visually Impaired People. Resources should all be made full use to facilitate our lives.