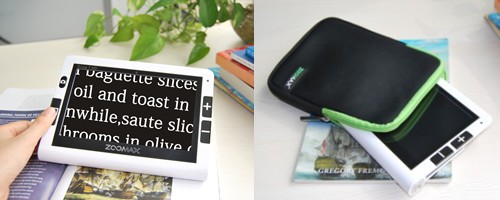 The Snow 7 HD is the perfect portable, midsize e-magnifier. There are just too many features to talk about.
Some of the highlights:
Its maneuverability and light weight make it easy to move and use where ever you want. It can be used either on its built in stand for flat items or hand held for not so flat items or around the room (using the Far viewing setting). Connect it to a TV, via the included HDMI cable, and the TV becomes your monitor for even easier long term reading.
The screen is large, the picture very clear and crisp and with 12 viewing modes, there's a setting for virtually everyone. The zoom is a smooth transition, with no sudden jerks. The lighting can be adjusted or turned off for comfortable viewing of any surface. One of my favorite features, as basic as it sounds, is that whatever settings you have when you turn the Snow 7 HD off, will be effective when you turn it back on. It's a big time saver. The controls are large, and contrast with the body of the magnifier. The included custom case (padded neoprene) covers and protects the magnifier, so it's safe to take along while traveling. The Snow 7 HD weighs about a pound and has dimensions similar to a small tablet, so it fits in purses, briefcases or backpacks.
Overall, the Snow 7 HD is a full featured, easy to use quality low vision product, suitable for almost any e-magnifier need.
Note: Thanks the activity "Win New Year's Gift 7″ HD Handheld Magnifier Snow 7 HD" winner Kym Durham for providing this excellent Snow 7 HD test review to us.