The two low vision industry leaders Rejoin Technology Co., Ltd (Rejoin Hereafter) and Zoomax Technology Inc.(Zoomax hereafter) announced that they had entered into a definitive agreement to merge with each other in the first quarter of 2014. Zoomax joins Rejoin group, one of largest low vision products manufacturers in the world and runs as a wholly-owned subsidiary while continue to manage Zoomax brand to serve the customers as before. The efforts of two companies' merger will empower people with low vision around the world to live independent and higher quality life.
After the merger, the scale and synergies of new entity will be able to bring:
Giant investment in technology R&D with more powerful and professional team. Both Rejoin and Zoomax believe that the innovation of technology is the life of the company and culminate in a consensus on the significant investment in the low vision technology's research and development. Various and advanced low vision products will be expected to assist more people with visual impairment in the near future.
Faster and higher performance service for global customers. The combination of experienced service team will continue to provide excellent quality products and customer service as well as great value in a more and more competitive market.
Accelerated growth with the development of low vision market. The horrible increase of visually impaired people worldwide causes enormous requirement of visual aids. Merger and expansion of Rejoin and Zoomax will be able to satisfy the growing needs of people with low vision and help them see the world clearer.
"Zoomax is an exceptional company with an increasingly influential brand in the global market. It is run by the first-class management team with the advanced business philosophy and respected mission which highly coincides with Rejoin's culture."

said Jeff Dong, Rejoin's Chief Executive Officer who will serve as the CEO of the merged company
"We are thrilled to welcome Zoomax to Rejoin group family and look forward to working together to let both brands sparkle in the low vision solution market."
Zoomax and Rejoin celebrated the merger with a ceremony at the Sheraton Hotel, Frankfurt Germany on May 14, 2014. The distributors from different countries attended this celebration and sent their warmest congratulation on the merge of Zoomax and Rejoin. During the ceremony, the chairman of Rejoin group Vincent Li gave an address and thanked all the customers' sustained trust and support, especially the VIP distributors' loyalty on the brand of Zoomax.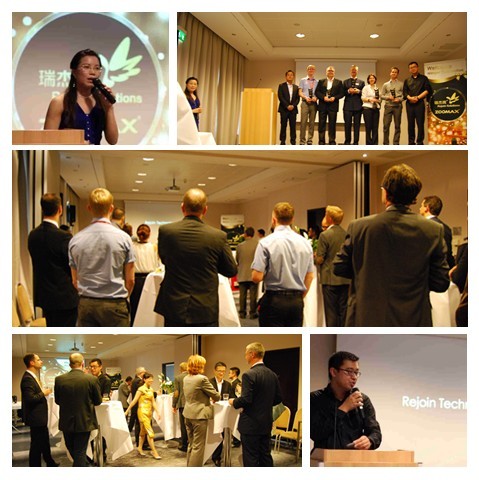 About Rejoin
Rejoin Technology Co., Ltd (www.rejointech.com) was founded in 2006 and headquartered in Hangzhou, China. As an industry leader in technology innovation, design and manufactory, Rejoin team is dedicated to providing the best ODM solutions to our partners in international low vision industry. Rejoin's unique business strategy – "focusing on international ODM business" enabled the whole team to concentrate on technology and innovation. After years of exploration and hard work, our R&D team has already become a group of electronic magnifier experts, especially on image processing technology. Moreover, the improvement towards perfection in production and quality never stops in the company.
About Zoomax
As a leading global low vision equipment supplier, Zoomax Technology Inc. specializes in the design, manufacturing and marketing of the high quality and most cost-effective video magnifiers including the most popular handheld video magnifier Snow family, lightest student portable video magnifier Mars HD and desktop video magnifiers Aurora HD with the best image. All Zoomax products have passed strict tests and get certificates as ISO-9001/ISO-14001, CE, FCC and RoSH (Details in Zoomax Qualification). These highly accepted products help visually impaired people around the world to read, write and have their own independent life. And our loyal distributors in more than 40 countries make Zoomax products reachable easily. Our mission is to max the value of life by delivering the most innovation and cost-effective solutions to people with visual disabilities.
For further information please contact:
Zoomax
Rejoin