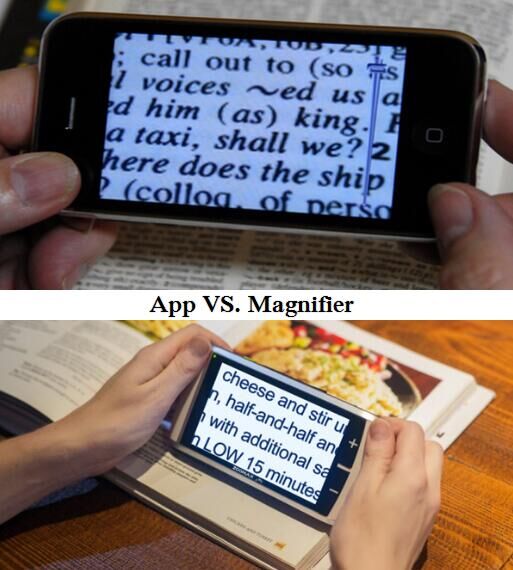 Recently we posted an article talking about some of the great apps that are available for your Smartphone, all of which are designed to make life easier for those with low vision or who are visually impaired.
Technological advances are made almost daily and now there are many apps for your smart phone available to assist those who are visually impaired. There are apps that can help you identify colors and money to ones that help you navigate both near and far.
The magnification apps are one of the most useful tools for someone who is visually impaired. It helps keep us connected and able to communicate with others in a variety of ways. They assist us with small reading tasks but they do not compare to handheld video magnifiers
Today's video magnifiers allow you a much wider range of zoom . You can magnify any image anywhere from two times to 19 times their original size. The images are sharp and vivid. They also offer you the flexibility of changing the contrast so that reading is easier and contrast can be customized to help with each task, from reading, to writing letters, to threading needles, reading grocery labels and so much more. Screen sizes vary from very small to about 7 inches. Most also offer full color and high definition.
They are lightweight, compact and portable making it easier to always have magnification available at your fingertips. Most have rechargeable batteries and the typical battery life is anywhere from 3.5 to seven hours of continuous use.
There are a wide variety of sizes and styles available. To learn more about some of the advantages of video magnifiers you may want to take a look here. https://www.zoomax.com/low-vision-products.html#Handheld. Zoomax offers several magnification solutions for those with low vision or who are visually impaired.