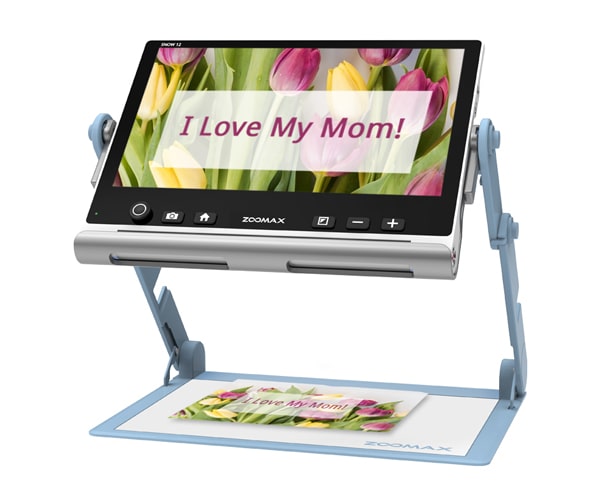 Mother's Day is just around the corner, are you ready to celebrate this special day with your family?
Flower bouquets, thank-mom cards, and a night out at a nice restaurant…What else can you do to make the day a little more special and memorable?
Here is a great and new gift solution for you.
If you haven't got a gift for your mom yet, or have a hard time choosing a really special yet useful gift, we have a suggestion for you: Snow 12.
What is Snow 12, and what makes it a perfect Mother's Day gift? Here are top five reasons:
Comfortable Reading & Writing Snow 12 is the only 12-inch portable magnifier solution with a foldable stand, with a comfortable writing space underneath, so she can easily write and read.
Clear View Full HD image display offers every detail when she's browsing through the family album together, and reminds her of every happy moment!
OCR Text-to-Speech The OCR text-to-speech converts printed words into speech. Mom used to read you bed stories when you were young.
Intuitive Use A "hard to handle" digital gadgets can be frustrating, yet Snow 12 is simple and intuitive; just turn on and use it!
Slim & Modern Keep mom stylish! She deserves to have such a modern and fancy gift.
For more information, please visit the Snow 12 page.
Wish every "greatest mom ever" a happy Mother's Day!