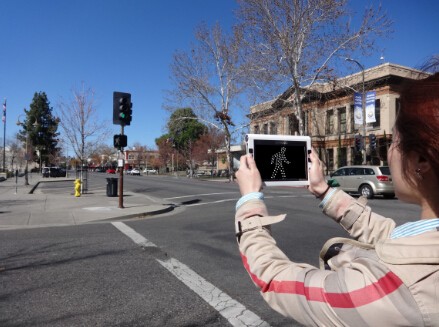 Have you put off attending that out-of-town wedding or postponed taking that vacation of your dreams? Those with low vision or blindness can still enjoy traveling alone. All it takes is a little planning and preparation.
There are many things that you can do to make traveling much less stressful. See the travel tips for low vision listed below. Besides, Zoomax also prepared other resources including apps and helpful things when traveling through the city at the bottom of the page.
Planning ahead can make your travel adventures more enjoyable. Read about and learn as much as you can about your travel destination in advance. This will help you anticipate what to expect and ensure that you get to visit those tourist attractions that you most want to take advantage of.
Check with your destinations visitors bureau, often they can guide you in selecting the right tour package or help personalize one for you.
Make your reservations early whenever possible. Contact airlines and airports ahead of time to learn about the services that they may offer including seating arrangements, pre-boarding guidelines, meals and shuttle services.
This may sound trivial but it is always a good idea to have written directions with you. Even if you are not able to read them you can show them to someone else in the event that you get lost.
Make sure that you have accurate addresses to each destination. Do not assume that bus drivers or taxi drivers know where every landmark or tourist attraction is located.
Travel smart and keep those important necessities on you. Keys, money, tickets, passports and passes can be kept in your pocket.
Keep a credit card and extra money with you. Even if your handbag or wallet is lost or stolen you will still be able to reach your destination.
If you are traveling by bus know the schedule. Inform the driver where you are going so that he will know when to let you off. Sit in the front of the bus.
Make sure to let your travel agency, bus line, airline or any other travel service you are using know that you are visually impaired.
Do not be afraid to ask for help if you need directions or assistance. Customer service representatives or others travelers are always willing to assist you in finding your way.
Carry your cane even if you are not using it for mobility purposes; your cane lets others know that you are visually impaired.
Be sure to check on tourist discounts that may be available to you. Some amusement parks offer discounts for those with visual impairments or their sighted guides.
Whenever possible bring carry-on luggage. This will help you avoid any of the hassles caused by crowds. Carry-on bags also eliminate the need to visit the baggage claim terminal.
If you do have to check a bag, label it accordingly with your name, address and phone number. Also add something that makes it stand out. If you are looking for a simple trick, tie a bright ribbon on the handle. This will also make your bag easier to identify for anyone assisting you in the baggage claim area.
If you choose to use a travel agency, check around there are many now who specialize in planning trips for those who are visually impaired or physically disabled.
If you are taking a guide dog, check and plan for guide-dog restrictions. These may vary by location and destination.
Additionally, please check Low Vision Aids and Mobility Resources and Create a Accessible Public Environment for Visually Impaired People for more advices.
Prepare yourself by doing research as more as you can, then you will have a wonderful trip too.