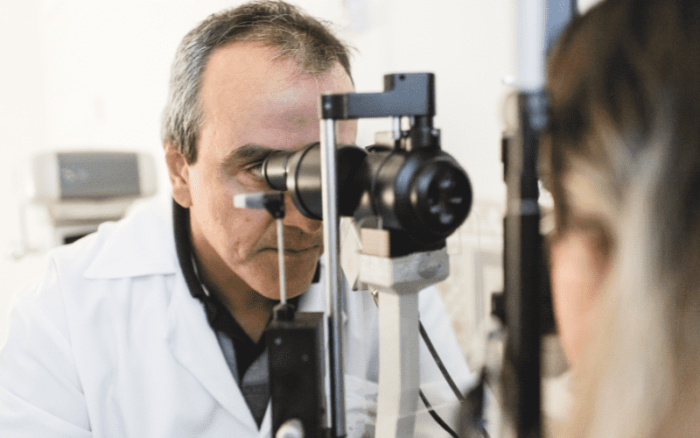 1. How Long Does it Take to Lose Vision with Age-related Macular Degeneration (AMD)?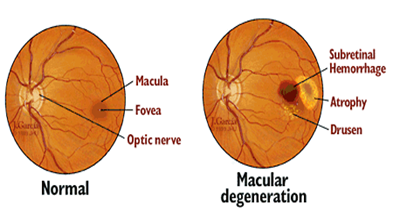 Age-related muscular degeneration (AMD) is a slow and progressive condition that may take several years to lose vision completely. During the late stages of the condition, patients with AMD will experience difficulties in their vision. This means that the symptoms of AMD are not sudden, and the progress is painless. However, on average, it may take a patient about ten years to progress from the diagnosis to the legal blindness stage, with different forms of muscular degeneration expected to cause low vision in the patient just a few days from diagnosis. This means that blind spots will appear in the eye through gray, red, or black spots.
Learn More: What is Macular Degeneration AMD?
2. Can Age-related Macular Degeneration (AMD) be Stopped?
There are no known treatments and interventions to cure AMD. However, the existing interventions are used to prevent the slow progression of the disease. Patients are advised to eat healthily, get regular exercise and quit narcotics (smoking) which helps reduce the progression of the disease. Besides, it is crucial to get regular eye exams for seniors with AMD to make sure their eyes are healthy and free of other vision issues.
Learn More: What is Macular Degeneration AMD?
3. Can Age-related Macular Degeneration (AMD) be Completely Cured?
Treatments for macular degeneration slow the disease's progression and keep the patient from completely losing their vision. Patients are advised to talk with their doctor about the best interventions to manage macular degeneration, whether dry or wet forms of the condition.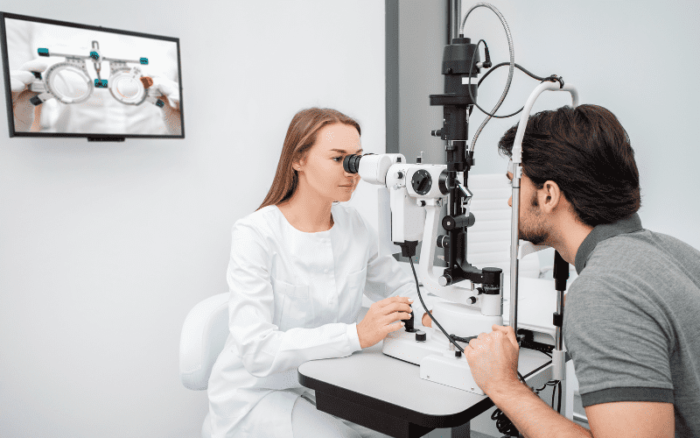 4. Treatment of Age-related Macular Degeneration (AMD)
Treatment options for AMD include anti-angiogenic drugs, laser therapy, photodynamic laser therapy, and low-vision aids. There are also some experimental new pharmacological approaches, including treated with a high-dose combination of vitamin C, vitamin E, betacarotene, and zinc can reduce the risk of developing advanced AMD by almost 25%, and reduce the risk of vision loss caused by advanced AMD by about 19%.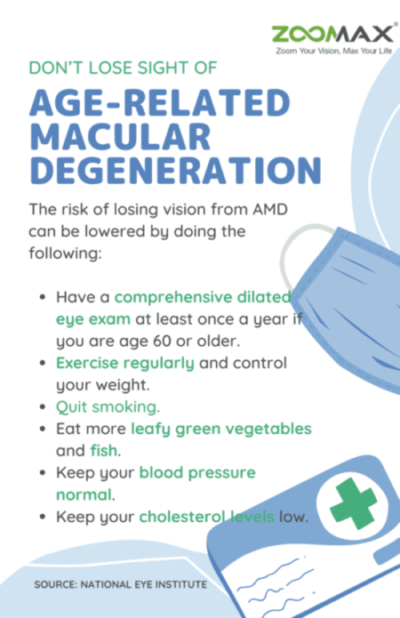 5. Low Vision Products for Patients with Age-related Macular Degeneration (AMD)
Advances in technology and the development of visual aid products from Zoomax, eSight, OrCam, etc. make it possible for patients with AMD and with low vision to live and work similarly to people with normal vision.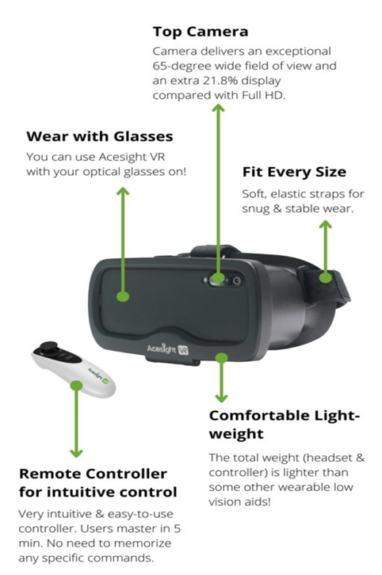 For example, the Zoomax series knows that AMD patients are more aligned with electronic and non-optical magnifiers, and all Zoomax low vision magnifiers not only improve vision, but support adjusting settings on the presentation, field of view, displays, and frame rate. Such as the wearable assistive technology Acesight series, including Acesight VR, Acesight, and Acesigt S, which also positively applied many cutting-edge technologies.
Acesight Virtual Reality (VR) and Augmented Reality (AR) technologies also include electronic glasses that enable people living with AMD to see more explicit images even in poor lighting conditions. The specifications which make Acesight series products appropriate for visually impaired patients include lag-free moves, sharp displays, fast focus, a wider field of view, and distortion-free wireless control.
Likely products include high-tech vision magnifiers from eSight describe the wearable devices AMD patients with low vision can use to perform daily activities by helping them magnify and enhance their visual fields. Patients living with AMD can also use Orcam's voice-activated devices. OrCam My Eye 2.0 is among the revolutionary devices that instantaneously convey audible, visual information to patients with ADM in real time, even on offline devices. These devices can be attached to any pair of low-vision eyeglasses, which can help low-vision patients read texts from their phones, book, street lights, and even on other surfaces.
Because of their portability, handheld electronic video magnifiers are great for enlarging newspaper text, menus, maps, recipes, and labels for prescription medications. The small-size portable video magnifiers help AMD patients gain some vision by using well-suited rechargeable batteries that may have a long-lasting stay. Products of this type include handheld electronic magnifiers, such as the Zoomax Luna series, like Luna S, Luna 6, and Luna 8.
Desktop video magnifiers also help AMD patients modify the image according to their preferences on color, brightness, and contrasts.  Desktop magnifiers are better suited for usage in rooms, offices, or libraries and are ideal for a variety of tasks, including reading, writing, and viewing photographs. Of course, the necessity for space is often a severe restriction as desktop video magnifiers are no lighter or smaller than handheld or wearable electronic magnifiers. Low-vision products of this type with great customer feedback include the newly presented Luna HD 24 Pro, Aurora HD, Supernag 6, etc.
Recent Studies on Age-related Macular Degeneration (AMD)
Scientists are studying the causative factors of AMD and improving treatment options. One NEI research team discovered a method to use stem cells to treat dry AMD in mice. Researchers are currently conducting tests to study the safety of this medication for people.
Get the latest news on NEI-supported AMD research
References
https://www.correctiveeye.com/vision-procedures/macular-degeneration/#:~:text=How%20Long%20Does%20it%20Take,sight%20loss%20in%20just%20days.