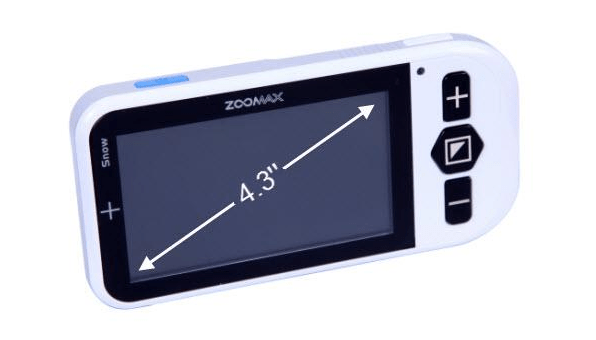 On May 6th, in Seeing Eye's 8th annual online auction (see link), Zoomax featured product handheld video magnifier SNOW 4.3″, was successfully bidden by BAYCB when there was less than 3 hours to deadline. Zoomax donated this device as part of the company's "Better Vision" program.
Our full gratitude is not only to our partner Seeing Eye which successfully raised 5,045 bids in total up to 8th May 2016 at BiddingForGood, but also to the enthusiastic sponsors and supporters who chose to trust us. Thanks for you all.
Also thanks for the bid winner BAYCB. We know few about BAYCB since the bidder has personal information protected, but if she/he is a user requiring frequent use, an easy-to-carry size and one hand control design are just as important as a sharp image even at low magnification. We are proud to see it helpful.
It is easy to grasp, and if you have question in applying, please don't hesitate to contact. We would like to provide solution as well as the nearest retailer if BAYCB, or any other user, wants any help.
Charity work is a social campaign and Zoomax is just one of these thousands of participators. We hereby call on every responsible organization to join this cause for people suffering eye diseases. Please check here if you get any idea and would like to realize it together.