Recently, the counterfeit SNOW Video Magnifier has been found on sale in China and overseas market without any authorization. The counterfeit models include but not limited to DZ-3 etc, which illegally copy Zoomax Snow. Due to its unprofessional technology and inferior quality, the serious defect of copy products had impaired the image of genuine products of Zoomax severely. Hitherto, our company, Zoomax, has applied a lawsuit on intellectual property against counterfeit Zoomax products in China.
Here below is the PATENT CERTIFICATE of Zoomax Snow.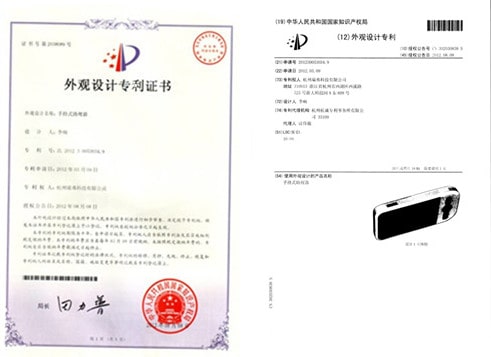 Comparison between Zoomax Snow and counterfeit
Special Note: Due to their poor technical capacity, the advanced model CAPTURE has not been imitated.
In order to protect our distributors' benefit and ensure the end users could enjoy the quality products and service from Zoomax, hither we provide the comparison between the licensed product and imitation for your reference and identification.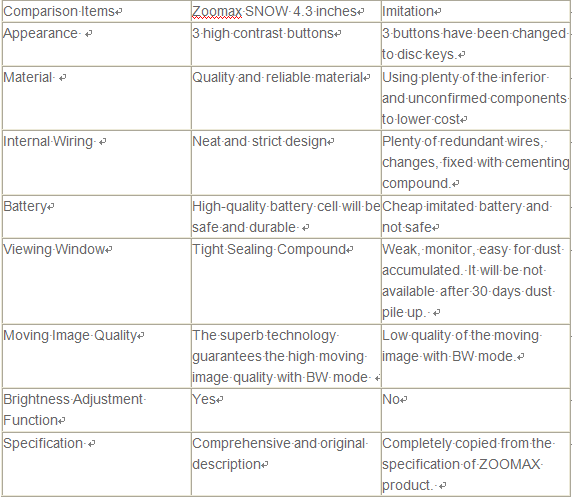 In summary, the inferior counterfeit products using plenty of unconfirmed and insecure material offer the terrible user experience which is vastly different from the licensed products of Zoomax, and has already caused lots of complaint and security problem due to its poor quality. Please be cautious and buy the licensed product from Zoomax's authorized distributors.
Zoomax reserves the right of transnational litigation to protect our intellectual property. Thanks for your kind attention.