More than a decade ago, clinicians had no solutions to help individuals with low vision or those affected by retinal deterioration. However, breakthroughs in genetics, bionics, and stem cell therapy have paved the way for new interventions that are cost-effective and risk-free to help individuals restore their vision. Among them, Stem cell therapy is an exceptional intervention that can help patients avoid the alternative and risks of retinal surgery-- it helps create new retinal pigment cells that help low-vision individuals restore their vision and prevent potential blindness. The article will discuss how stem cells are preferred over high-tech solutions to help the visually impaired integrate into a sighted world.
What are Stem Cells and How Do They Work
Stem cells describe the body's raw materials, while other specialized cells can generate themselves under specific conditions to form new pigment cells. In simple term, stem cells provide the body with new cells and replace damaged or lost cells. In medical research, stem cells can be used to help understand how different diseases work and how they can be prevented. Moreover, stem cells can help replace damaged cells naturally in therapeutic interventions.
Stem cells have two unique properties which enable them to perform their functions.
• Stem cells continuously divide themselves over and over again as they reproduce damaged cells
• When the stem cells divide, they can change into other forms of cells that compose the body cells.
Stem Cell Therapy for Vision Loss
Stem cell therapy is an effective intervention tested in clinical trials to help treat vision loss or legal blindness. Clinical research studying evidence-based interventions for different eye diseases and conditions such as age-related muscular degeneration (AMD), inherited Retinal Disease (IRDs), glaucoma, and corneal disease all point that stem cell intervention can help cure legal blindness by replacing the retinal pigment cells and help restore the vision for individuals with low vision.
Stem cell procedure for the visually impaired
Stem Cells can be turned into new cells for people with low vision and help restore their vision and prevent continued deterioration of their vision loss without surgery. The stem cell procedure begins with the clinician taking a small sample of the stem cells from a patient with a healthy eye and giving it to the patient with low vision. The clinicians specializing in culturing the epithelial cells will then grow the cells on the sample of the amniotic membrane, which has been a suitable environment to craft and promote the healing of the damaged cornea. Research from Stem Cells Institutes shows that a big sheet of stem cells can heal damaged cornea or retina cells. In addition, for individuals whose stem cells appear to be depleted but may have an intact cornea, this sheet/patch will help restore sight through stem cell injection.
Stem cell therapies may not reverse the cases of blindness but help a long way towards restoring the vision for individuals who are legally blind. Scientists are continuously improving ways to cultivate and expand stem cell therapy to slow vision loss. The damaged cornea can then be replaced with the stem cell procedure, which replenishes the epithelium and restores vision loss. Besides, research evidence shows that a small proportion of the transplanted neurons correctively integrate to form the retina complex neural circuitry
Side Effects of the Stem Cell Therapy
The stem cell procedure is not always successful as there are potential side effects and disadvantages that patients shy from picking as an appropriate solution for restoring their vision loss. Associated problems start soon after the stem cell procedure. While some side effects can be life-threatening, patients must reach their doctors even after the procedure. The potential side effects of stem cell therapy when performing the stem cell procedure for the human eye include infections to the eye, risks for eye bleeding, and potential pain in the tissue and nerve inflammation.
Controversies about using embryonic stem cells
There have been controversies about using embryonic stem cells for stem cell procedures as they were initially obtained from the embryo at their early stages. As human stem cells are obtained from the human embryo, it raised ethical issues regarding how the stem cell is used in research. Guidelines from FDA and National Institutes for Health on human stem cell research show that donation for stem cells and embryonic stem cells is recommended through Vitro fertilization which is used for restoring damaged cornea cells. The stem cells should be donated with the informed consent of the donor.
Other High Tech Visual Aids
Stem cell therapy is an excellent option for individuals seeking to avoid the risks of eye surgery and the costs of high-tech solutions. Stem cell therapy costs patients an average of $5009-$50000, depending on the severity of the condition. Patients must, however, research the type of stem cell procedure that will be performed. However, regardless of the cause of vision loss, high-tech solutions can help these individuals restore their sight and engage in activities such as driving, cooking, and watching their favorite TV shows.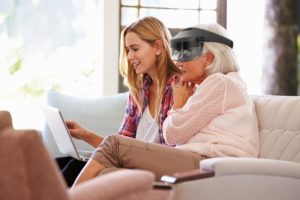 Electronic vision aids and the latest assistive technologies, such as projectors, magnifiers, screen readers, and tablets, are the non-optical aids that help patients who are legally blind restore part of their vision. Optometrists would also advise their patients Electronic aids and the latest technologies, and always to update their devices to gain the best services as the majority lose their effectiveness with time. Manufacturers such as Zoomax produce the newest solutions, such as head-mounted wearable devices Acesight series. Small cameras capture everything in front of the patient and present the scene on small lenses and screens positioned in front of the eyes. They help them live life normally. Moreover, Acesight image enhancers help legally blind patients interpret texts in high contrasts for reading by applying an outline for the scenes in front of the patient and detecting obstacles and other objects in their path.
Electronic video magnifying devices such as Luna 6, Snow 12, and others help with magnifications, enhanced contrasts, improved brightness, and accessible versatility settings. These devices also have the function, such as the ability to modify their magnification levels with ease, lines and markets on the devices help with the focus of images and texts, and the new devices come with incorporated additional technology such as audio programs, like Orcam series.
Reference:
https://doi.org/10.1172%2FJCI42951