Video magnifiers as the most effective devices for making things easier to see are used by people with low vision every day to read newspapers, the mail, pill bottles and recipes. There are many types of video magnifiers designed for different occasions, such as portable video magnifiers for trip and desktop video magnifier for fixed locations, home and office. Now, more and more people living with low vision would love to choose both of them as a set of tools to raise reading efficiency anywhere anytime.
Lots of users may know portable video magnifier very well, but less learn desktop video magnifier. Taking the typical desktop video magnifier Zoomax Aurora HD as an example, here we conclude 5 features for people with low vision reference.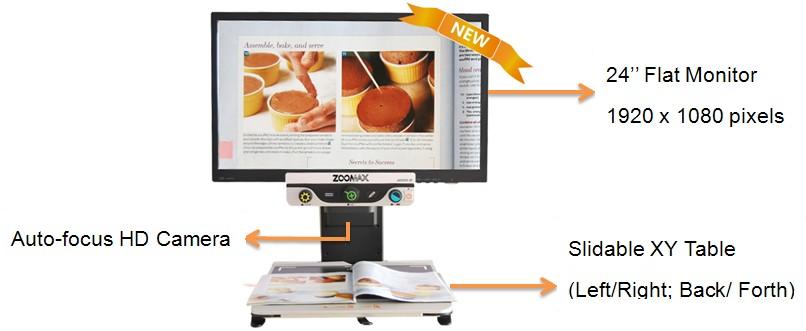 1. Excellent precise image quality
A magnifier is a closed-circuit system (CCTV) that captures images with a camera and displays them on an attached monitor. Only when the high definition camera well cooperate with the high resolution monitor could visually impaired users read newspapers and magazines clearly and effectively. The following are Aurora HD's specifications on camera and monitor.
Camera: High definition and auto focus
Active picture elements of the camera: 1280 x 720 pixels
Widescreen: 24'' LED
High resolution: 1920 x 1080 pixels
With such high quality equipment, users don't need to sacrifice the image quality but could get the sharper and defined letters and vivid pictures even at the deepest magnification levels.
2. Larger field of view both on the screen and XY table
Comparing to hand magnifier, Aurora HD is equipped with 24'' flat monitor which is capable of covering entire width of A5 paper at the lowest magnification 2X. It means that visually impaired users can finish the whole sentence or paragraph reading continuously with even less adjusting or no movement on magazine. That's no need to say pictures.
Even seeing the opened magazine, users can also have a general image of the content with the help of slidable XY table. Just sliding the table left to right and forward to backward, users can finish the reading of every part of the opened pages.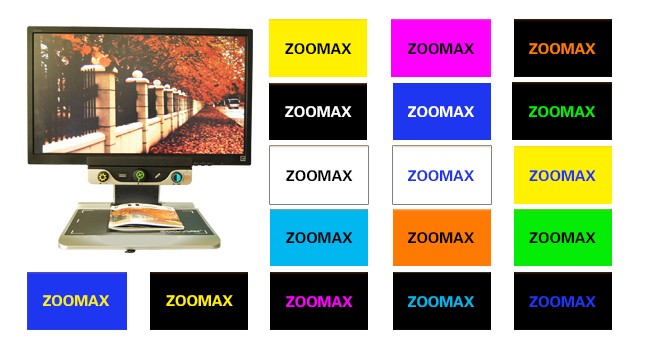 3. Multi-options on color modes, magnifications and viewing angles
Requirements are always different according to eye conditions, hobbies, light and so on. And the high contrast color modes do make the text recognized easily even for the people having perfect sight. Except frequently-used color modes, such as full nature color mode, black and white color modes, Aurora HD also provides another 15 alternative color modes for choice.
The deep magnification from 2 X to 70X with the large CCTV satisfies difference needs of typeface. Placing the pill bottle on the V slot, the tiny ingredients, suggested use and warning are absolutely clear for the users even at the lowest magnification.
The Aurora HD's monitor can rotate up and down, left and right, which means that users can read while sitting or standing, especially for the people who love cooking with the new recipe in the kitchen.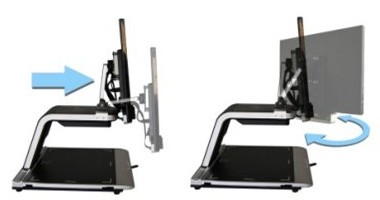 4. Specific location of lines and point
Not only does the larger field of view help lot, but the high contrast windows and lines on the screen of Aurora HD let the users fix the every vertical or horizontal line of text at deep magnification. Never start to read again and just read line by line by adjusting the windows and lines.
Find function will be a great assistant to the bookworms because of the skimming requirement. Combing the magnification adjustment, it's easy to search and locate the point.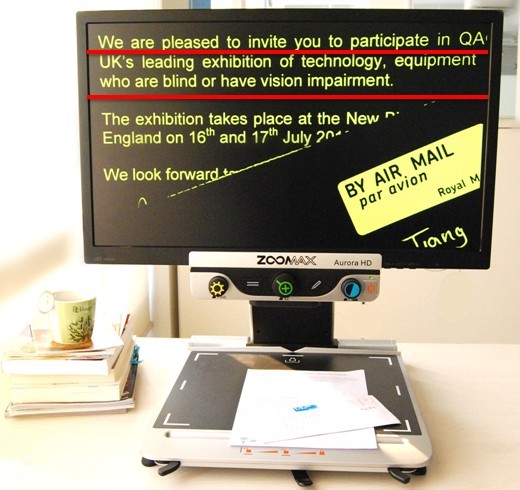 5. Ergonomic design for easy reading experience
The space under the camera of desktop video magnifier sets users hands free to do what they would like to do, such as knitting, enjoying collections, cooking new food and writing. The V slot on the XY table holds the round bottles steadily for reading and U slot makes the pens much easier to reach.
If you want to test those features and find whether desktop video magnifiers work effectively for your eye condition or not, welcome to Zoomax. We wish our free demo test could give people with low vision a better idea of view in another way.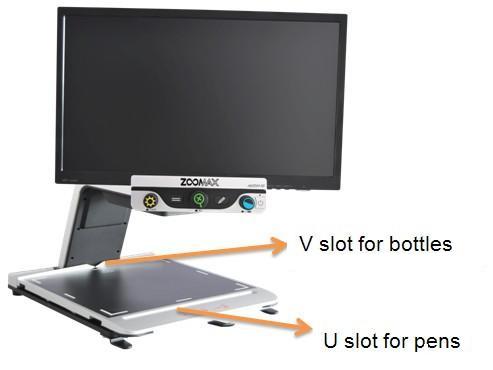 How to contact Aurora HD free test:
Call us: +86-21 50633955
Email us: [email protected] or https://www.zoomax.com/contact-us.html
Follow us to get the latest news on Zoomax:
Facebook: https://www.facebook.com/Zoomax-1161854887229688/
Twitter: @ZoomaxMarketing
Google+: plus.google.com/103200077460188065275/posts
Linkedin: linkedin.com/company/3543104