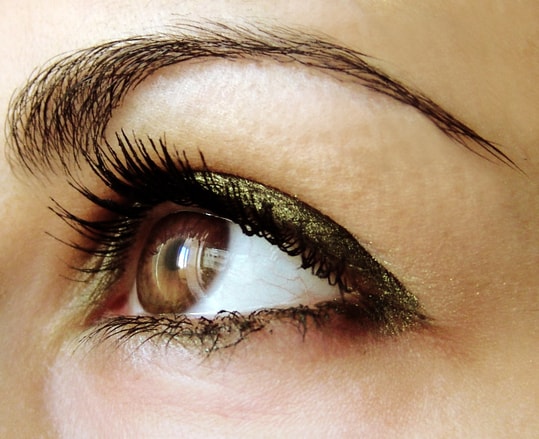 Let's face it, everyone wants to look good. Looking your best is a bit more challenging when you cannot use the same tools and equipment as most women. If you are blind or visually impaired, mirrors and lights will not help you style your hair or apply your makeup.
The truth of the matter is, if you are visually impaired or blind you can still learn to apply makeup skillfully with a little practice.
Before Makeup
To get started, keep in mind that there is a good relationship about how skin feels and looks. Start by cleansing your face thoroughly and applying a moisturizer. Make sure your face is dry before applying any powder or foundation. This will prevent any uneven streaks or clumping.
Foundation
I find that a pattern system works well. When applying foundation, you can work out and up from the chin to the ears, continue by going across the bridge of your nose to the temples. Next, spread the foundation from the tip of your nose to your forehead; you can use a circular motion to apply the makeup more evenly on your forehead and don't forget to apply the make-up from the inside corner of one eye to the inside corner of the other eye. Use small circular motions on the sides of the nose and chin. Work up from the throat.
Blush
When applying blush, use a clean dry brush. Apply the color to the brush and start at the apples of your cheeks and brush it lightly toward your ears. You can blend it with a brush or your fingers. I use my fingers because it is easier for me to feel if it is blended.
Mascara
Mascara can add a new dimension to your lashes, enhance your eyes and your appearance but check with your doctor to make sure it is safe to use with your particular eye condition. I recommend practicing a few times with a clean mascara wand to get the feel of it. When you are ready to apply the mascara, thin it out a bit by dragging it along the opening of the container.
If you are susceptible to eye infections throw out and replace your mascara every few months.
Lipstick
When it comes to lipstick, the colors can be bold. I find that thinner tubes work better for me than the bulkier ones. If you are hesitant or unsure you can dab a bit of color on your pinky finger and apply it to your lips. The best way to control the way the lipstick is being applied is by feel and measuring the pressure. The most pressure should be applied at the top of your lip and the pressure should decrease as you go to the corners of your mouth.
Nail Care
Nail care tips-brush beneath your nails and your nail beds every day with warm soapy water. When your hands are dry, apply a moisturizer. I find that short or mid-length nails are easier to care for. I recommend filing them twice a week to maintain the length you want to keep.
If you want to apply polish to your nails, I recommend putting the polish in the refrigerator for an hour or two before applying. You will be able to feel the cold and know where you are applying the polish. If you are hesitant about putting polish on your nails, ask a friend to help you or call your local beauty school and set up an appointment for a manicure or mani-pedi and have your nails groomed and painted. This is usually more cost effective than going to a salon.
Ask Someone Else
Nan, my vision counselor also helped me devise a plan to match up my clothing.  My clothes have special pins in them that have dots on them. By knowing how many dots are on the pin I can match up colors. For example, two dots may mean black, one dot blue and three dots white. This helps me determine when I have a white blouse with a pair of black slacks, the pins can go in the washer and dryer so it makes organizing my clothes a snap.
Most things take time and practice, from matching your clothes, to applying makeup and nail polish but with some practice and patience you will define your own amazing and beautiful look.
More Information
Here are also some information about discussion and brands applying accessibility for people with visual impairment:
DOT Skin Care for the blind & visually impaired - behance.net
https://www.behance.net/gallery/32198589/DOT-Skin-Care-for-the-blind-visually-impaired
DOT Skin Care has included 4 products that clean, tone, vitalize, and moisturize. A simple solution is provided: an easy numerical system in order of application.
Makeup and blindness -Sephora
http://community.sephora.com/t5/Eyes-Q-A/Makeup-and-blindness/qaq-p/294695
A question asked and answered by girls with vision loss in Sephora BeautyTalk.
Audio Makeup By Maybelline NY Brasil - iTunes
https://itunes.apple.com/us/podcast/audio-makeup/id1157028066?mt=2
L'Oréal Brazil wants to help visually impaired women use its products through new Audio MakeUp Project.
Braille - L'Occitane
http://fondation.loccitane.com/the-fields-of-action,1,1,19,23.htm
Since 1997, L'OCCITANE writes down the name of the products in braille on most of its packaging.
Garnier - Braille
http://www.es.garnierusa.com/_en/_us/commitments/braille.aspx?tpcode=GARNIER%5ECOMMITMENTS
Garnier is including information in braille on its skincare packaging in Europe.
Please note that no endorsement of the linking site or products mentioned in the linking page is intended or implied by such a link.