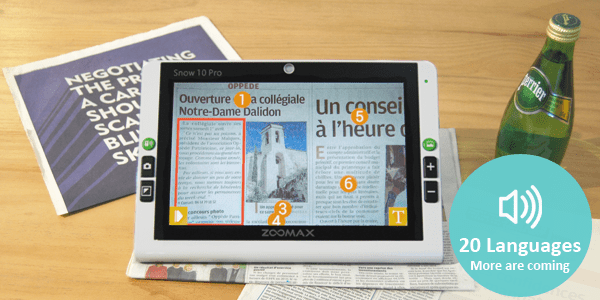 Technological advances have greatly improved the lives of many. The internet has allowed us to glimpse into realms that we may have never known with just a few clicks on the keyboard. Shopping online has made life more convenient. We can have commodities delivered right to our door. For those of us who are blind or visually impaired, those technological advances have opened new worlds.
From CCTV's, desk top magnifiers, portable video magnifiers and electronic magnifiers to talking watches, money readers and more, the world has become larger and better for those who struggle with vision loss.
One of the tools I use every day is a handheld portable video magnifier. It has made a significant difference in my life by allowing me to read books, mail, menus, grocery labels, prescription bottles and so much more without assistance. It helps me preserve my privacy and remain independent.
Less than ten years ago, I had to rely on my friends and family to either read the menu to me or tell me what was on it. They also had to read the bill to me and help me sort monies. With the assistance of a portable video magnifier I can do these things myself with confidence.
I use text-to-speech technology daily for Google ™ searches, and it is one of my favorite features on my cell phone. This technology reads my email to me as well as text messages.
Zoomax®, recently released a new 10″ video magnifier, the Snow 10 Pro. Besides the wonderful high definition 10 inch touch screen that allows you to see more, the Reader Mode, allows you to use the camera feature, to take a snapshot of what you are reading so that you can magnify and pan the text as needed.
Although eye fatigue can be a problem for anyone, it is even more so for the visually impaired but the Zoomax® Snow 10 Pro also integrates text-to-speech technology, available in over 20 languages to enhance the visual experience.
When I spoke with Denise Spring Schweizer, she was excited to hear about the features offered by the Snow 10.
"Yes, sounds wonderful especially if it's at AN affordable price. Secondly, text to speech has changed my life. Just not having to use the eyes to struggle through reading print has really changed my ability to do mini task I really had a difficult time with."
The charge time is only two hours which cuts the charge time by more than half of most handheld video magnifiers and the Standby Mode can extend the life of the charge.
You can store a library of music or audio books to enjoy at home or on the go but one of the new features I find most exciting is the three-way view that not only encompasses long distance viewing and up-close viewing for reading but allows you a mirror or self-view so that you can easily apply make-up or tend to grooming needs.
Kathy Smith shared her excitement regarding the self-view offered with the Zoomax® Snow 10 Pro:
"Makeup! Be nice to put on my makeup again. Tweezing eyebrows too."
I shared some of the capabilities of the Zoomax® Snow 10 Pro with Shanin Lowe of Tuscon, Arizona:
"The general premise is great. Three-way views on large CCTVs are amazing but obviously not portable. A lot of individuals have gone to using iPhone® or iPad® for these functions but they don't have stability on the camera (something to prop it like on some handheld video magnifiers) and the resolution is almost useless by 5x so 19x on your screen size would be great. Beating the resolution and screen size of an iPhone would have to be your major edge."
I agree with Ramona Lee:
"I would love to have a handheld that do a lot of things in one unit. Too heavy and complicated to have many devices to do one thing only."