Today I'd like to recommend a social network for disabled people: My Disability Matters (MDM). The initiator of this site, Dale Reardon, lost his eyesight 30 years ago. Accompanied by a well-trained Seeing Eye dog Charlie, though, Dale unfortunately found there was bare accessibility for people with disability to enjoy, neither virtually nor physically. This also brought out loneness. To help disabled people overcome loneness, he created this site for and tried to make it accessible focusing on a liberty of both aspects.
The corporate site mydisabilitymatters.com was just finished containing shop, news and club. Among them, the club is most worth a mention: it is a new social community with around 600 people joined for the disabled, friends, family and carers to Meet, Share, Learn and Discuss.
To sign up is free so far. After logging in, the user can enter the personal page (screenshot as below).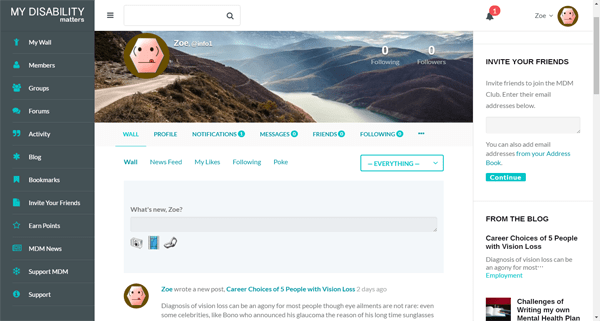 My Wall, Members, Groups, Forums, Activity, Blog, Bookmarks, Invite Your Friends, Earn Points, MDM News, Support MDM, Support are listed on the left part; while blog and forum are integrated on the right side. The vision is a little bit similar with a simplistic Facebook.
The window is concise, ordered and decorated with elegant color scheme. For visually impaired users, the most important thing is, the words are originally big. After I tried to post a blog Career Choices of 5 People with Vision Losshere, I found it was stylish to edit the blog as well, and the edition setting was like LinkedIn Post. Every blog published was approved by administer, in which way the content quality gets guaranteed. A clear website structure can effectively help the blind visitor to catch words with screen readers, yet we didn't make the test.
Catch phrase of MDM is "nothing about us, without us". It's a new site based in Australia with international members as well. Hope more people with or without disabilities will join MDM globally and take action to create a better life.