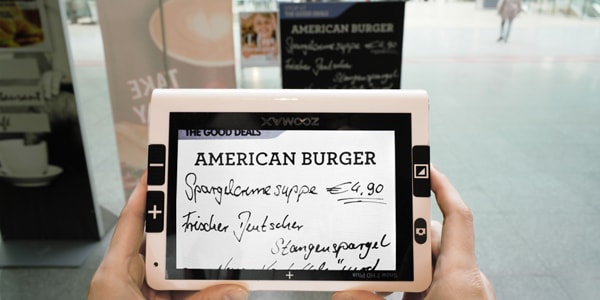 This is a feedback from Stacey Stefanski, director of New Jersey Blind Citizens Association.
Hi.
I was at a township wide event today and brought along the Zoomax with several other products made for the BVI community.
There were a few inquiries as to what it was, how it worked etc. After demonstrating, I asked if there were any questions.
Some of the inquiries of course were price point, can the volume be adjusted any louder for those that are also hard of hearing, and retailers.
(Note: Volume of Snow 7 HD Plus is adjustable. Please check the instructional video on YouTube. Volume adjustment will be in 6:52)
Most of whom stopped by my table were either inquiring for their older parents or for someone they knew.
There are no professionals that work in our organization really. Everything I know I've learned from our participants or doing research on my own. But the 3 employees think it is a terrific product.
The major users for the magnifier are those who are visually impaired and about 60-70 years old. They may borrow it while they are here.
If inquiring about purchase, I give them the direct contact information for the company and also a product magazine here called Maxi Aids.
(Note: Maxi Aids doesn't sell Zoomax Snow 7 HD Plus. For dealer information, please contact us)
The logo is now on our website and I will be putting your donation out as a facebook release shortly.
If there is anything that I can do for you, please let me know!
Thank you so much again for providing a value to those who need it!
Stacey
---
Related information:
News - New Jersey Blind Citizens Association Received Snow 7 HD Plus
Products - Snow 7 HD Plus