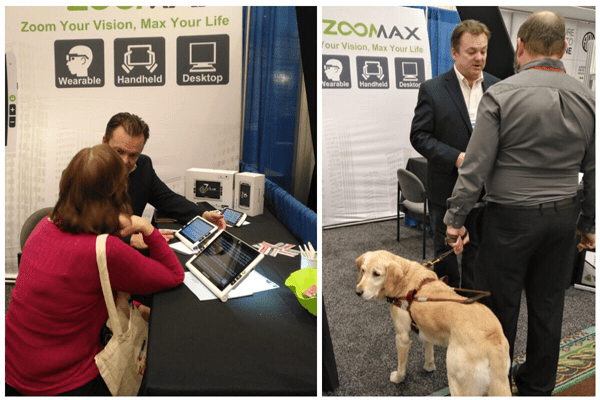 Displaying the latest handheld video magnifiers Snow 10 Pro, Snow 7 HD Plus and other Zoomax assistive products, Zoomax attended Assistive Technology Industry Association (ATIA) 2018 Conference in Orlando, Florida.
Having joined the international assistive technology event since the first attendance in 2013, it was the 5th ATIA conference Zoomax showed up. Like M5 HD Plus got its first release at ATIA 2017, it was lately announced Snow 10 Pro that shone at ATIA 2018.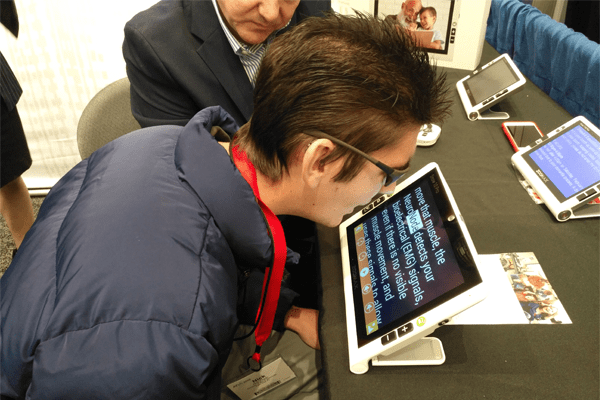 The 10″ large screen new release became a super star among the low vision CCTV magnifier products during the event. Larger screen, text-to-speech, audio playing and exclusive reader mode featuring the device appealed to distributors and customers at all ages.
Reader mode as one of the new functions being imported, offers reading lines for the captured text picture. In this mode, users enjoyed high quality images in high magnification. A quick tap on the upper-left corner brought the picture back to where the users started. Great feedback were received after a trial at the booth.
"Not many handheld products in the show have a large screen with 10″ and a text-to-speech function at the same time. Mom doesn't have to move the device to read in reader mode. It's amazing!"

John Worthen, who introduced the device to Greta, his 85 years old mother.
Another new handheld video magnifier Snow 7 HD Plus introduced in the ATIA conference inherited great reputation of Snow 7 HD. The optional swivel arm easeArm converts Snow 7 HD Plus into a video magnifier that features stable A4 text-to-speech full page scan, bigger zone for easy writing and ultimate in reading experience. As a device upgraded from one of the hottest products, Snow 7 HD Plus attracted returning clients mostly, among who had been staunch fans of Zoomax for years.
Zoomax wearable product, not displayed as a device but an icon symbolically in the graph, drew a lot of interest. People came to booth and asked for more information. The wearable products will be presented at CSUN expo 2018 in March.
Please click to know more about Zoomax's previous performance in ATIA in 2017, 2016, 2015, 2014 and 2013.