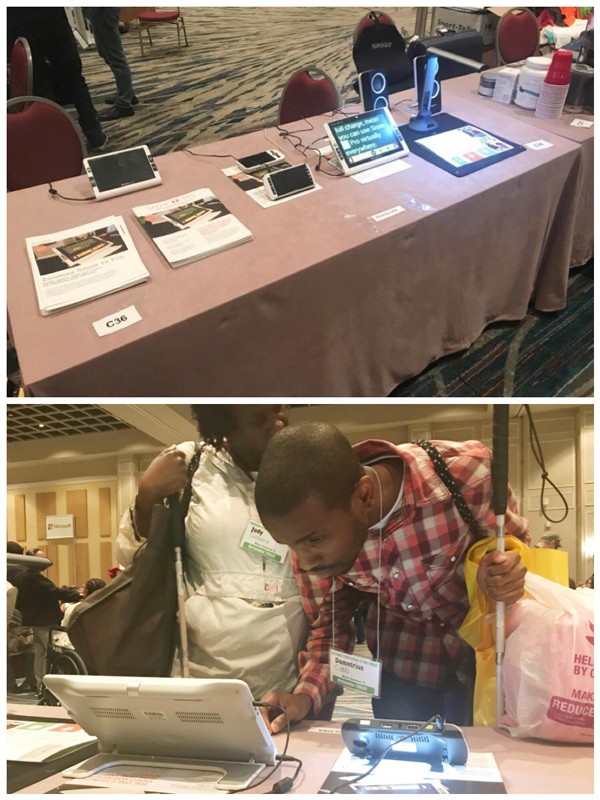 Zoomax USA, the subsidiary of Zoomax Technology in USA, showcased the technology capabilities and prototype of newly designed new wearable device RevoSight at this year's National Federation of the Blind (NFB) convention. As one of the largest of its kind, the NFB convention attracted up to 3,000 people who were blind or visually impaired. Zoomax USA made the display at C36, Rosen Shingle Creek in Orlando, FL from 3 -- 7 July 2018.
At the NFB convention, Zoomax USA showcased the firm's innovation capabilities with assistive technology of visually impaired aids, including Snow 10 Pro, the latest handheld video magnifier with speech uniquely. Besides Snow 10 Pro, visitors were also able to experience the prototype of RevoSight, the wearable augmented reality solution.
Throughout the convention, Zoomax USA's president, David Bradburn, presented on a full line of Zoomax products, with a focus on exploring the possibility for enhanced independence with new augmented reality displays implemented by RevoSight.
Luke Scriven, Assistive Technology Manager from Chicago Lighthouse for the Blind, gave the RevoSight a try and walked around at the exhibit hall wearing it. Luke acknowledged that people who use other devices – especially the VR headsets – felt sick or dizzy when they used them. The ability to move without dizziness or lag impressed him greatly. "Regarding this, I will not attempt with the other products." said Luke.
Visitors also learnt about what other Zoomax low vision products brought to improve the daily independence for visually impaired people. The 10-inch handheld video magnifier featuring high accuracy Speech function, compatibility with Accessible Instructional Material (AIM) in PDF format, voice prompt and some other unique benefits drew attention. The combination made it easy to enable users to make a full use of the auditory sense while content was displayed larger at high contrast.