Panda
Is there any really easy-to-use electronic magnifier with clear large image, full page magnification, and right size for my house but within my budget? Zoomax desktop video magnifier Panda offers more than that.
Description
Specification
Video
Download
Send an Inquiry
Description
Announcement Video​
3 Buttons for 3 Frequently-used Functions
On Zoomax Panda's monitor, there are only 3 big and intuitive buttons designed for 3 most frequently used functions of common desktop video magnifier: magnification change, color modes change, and brightness adjustment. So no matter who use it, grandparents or young children, it is really easy to control it from beginning. There is definitely no complex learning or training process.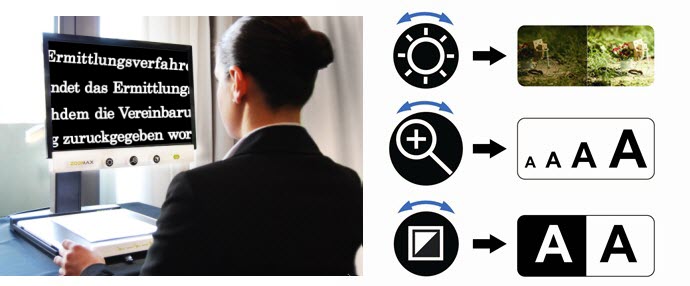 Black and White, Compact Design
Zoomax Panda has high contrast black and white appearance, which is apparent for visually impaired users to reach and operate in different positions and environments. Especially designed for simplicity and convenience, Zoomax Panda has no redundant decoration and is for plug and read.

Reasonable Size for Apartment or Office
According to the professional investigation and communication with a big amount of end-users, desktop magnifier with 19″ screen and 19.5″ XY table will be a more desirable choice to view pictures or read documents in full page at apartment and office. Zoomax Panda satisfies the requirement of reading in large and clear image, but occupies less space.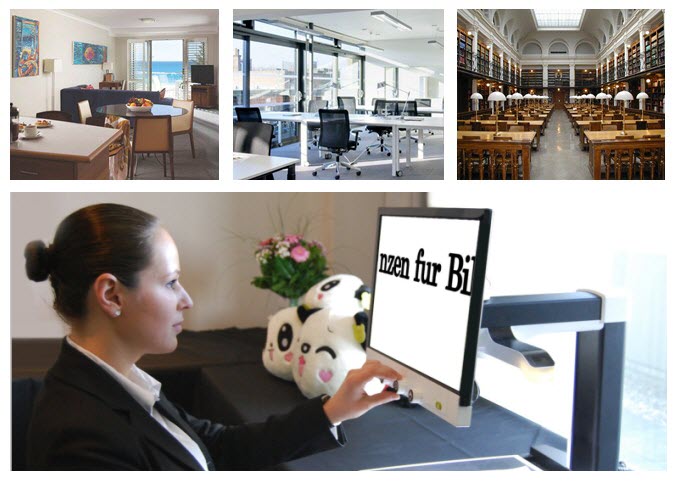 Affordable Desktop Video Magnifier
With the excellent features, Zoomax Panda is designed for most visually impaired people to easily read books, do homework, deal with documents and do whatever people like to do.
Specification
Video
Download
Send an Inquiry