Globally, the average lifespan is increasing, and improving healthcare has made visual impairment and the need for its rehabilitation more crucial.

Low vision amongst adults 65 years and older has increased and this disability rates as one of the top ten disabilities people suffer from in the world. Vision loss impacts person's ability to look after themselves, read, write, or in general just to do life.
The over 65 population has grown rapidly in past decades. The population aged 65 and over has increased from 150,633,690 in 1960, to 723,484,054 in 2020, with an increase of 572 million people. Such a growth trend is set to accelerate. According to the prediction from World Population Prospects, by 2050, 16% of the population is projected to be aged 65 and over, that is, one in six people in the world will be over the age of 65. Given that age-related diseases and disorders account for the majority of vision loss, having a bigger percentage of the population in older age groups means a higher prevalence of visual impairment. It can be anticipated that in the near future, the incidence of age-related vision loss will continue to rise.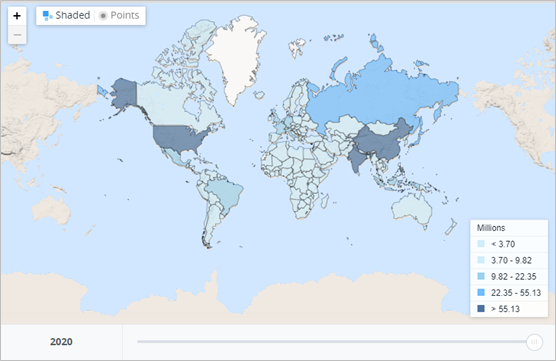 Population and distributions of the world's older population in 2020. Population Ages 65 and above (% of Total Population) | Data, 2020
Low vision can be caused by various diseases and traumas, making it a major health care problem, especially for the elderly. About one in three elderly people suffer from a form of vision loss.
Common Age-related Ocular Diseases include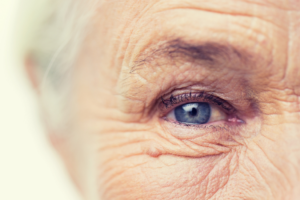 Among them, macular degeneration, glaucoma, cataracts, and diabetic retinopathy are some of the more common causes resulting in vision loss in adults aged 45 and older. This is even more prevalent in adults over 75.
Technology to Assist the Seniors with Low Vision
Low vision aids and other assistive technologies aim to enhance a person's remaining vision and provide aid or compensation, for impaired vision making daily living activities easier to perform. With the rapid pace of technology, assistive technologies designed for the older age group consequently play a significant role in the lives of individuals with disabilities and support seniors' engagement in daily activities and participation in their communities. Magnification aids, such as optical devices or electronic magnifiers, are commonly used to meet low vision people's needs.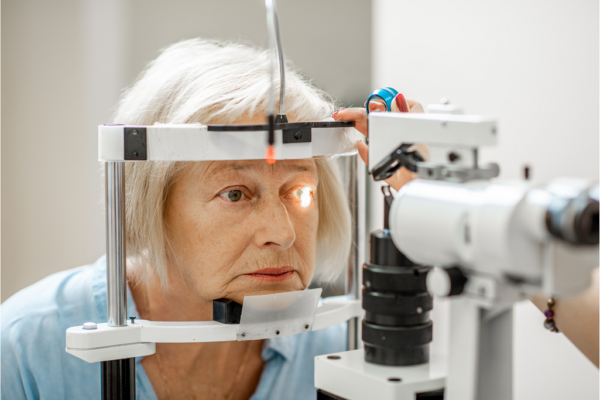 Spectacle-mounted magnifiers
The spectacle-mounted magnifier is a hands-free magnifying lens mounted in glasses or on a headband. This magnifier can be monocular (for one eye) or binocular (for one eye). The spectacle-mounted magnifier has a wide range of magnification.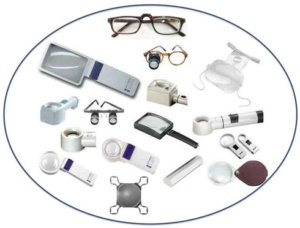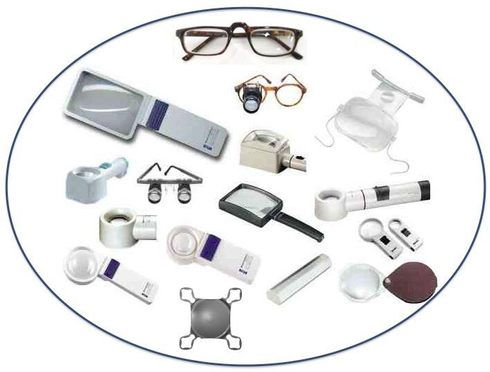 Handheld or spectacle-mounted telescopes
The handheld or spectacle-mounted telescopes are used to see longer distances. This makes it easier for the visually impaired to read and watch. They can also be modified to use for reading and the bioptic telescopes can even make driving possible sometimes.
Handheld or Portable Electronic Video Magnifiers
The handheld or portable magnifiers are great tools for enlarging newspaper text, menus, maps, recipes, labels, instrument dials, books, etc. on prescription drugs due to their adaptability, portability, and durability.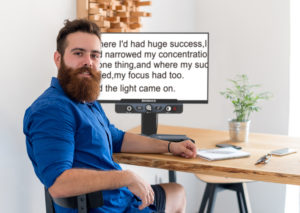 Desktop Electronic Video Magnifiers
Most desktop magnifiers have software enlargement programs, screen readers, and speech output functions.  These magnifiers provide flexibility in viewing modes, focus, screen settings, and magnification.
Other products such as large-type reading material books on tape, software solutions, etc.
Visually accessible tablet and smartphone or computer software designs for persons with poor vision and alternative sorts of accessibility for the blind, the ability of reading and mobility of visually impaired people are also improved.
Among them, electronic video magnifiers are very useful technology aids to assist seniors with vision impairments to live independent life.
---
The Features of Electronic Video Magnifiers 
Electronic video Magnifiers are excellent low vision aids for seniors with visual impairments. It provides a magnified image and also enhances contrast and offers a variety of features to help seniors with low vision with daily activities and improve their quality of life.
Most electronic video magnifiers have high-contrast color viewing modes to ensure the elderly can read clearly. These selectable color modes include high-contrast full color, enhanced black on white, enhanced white on black, et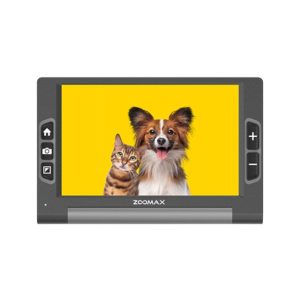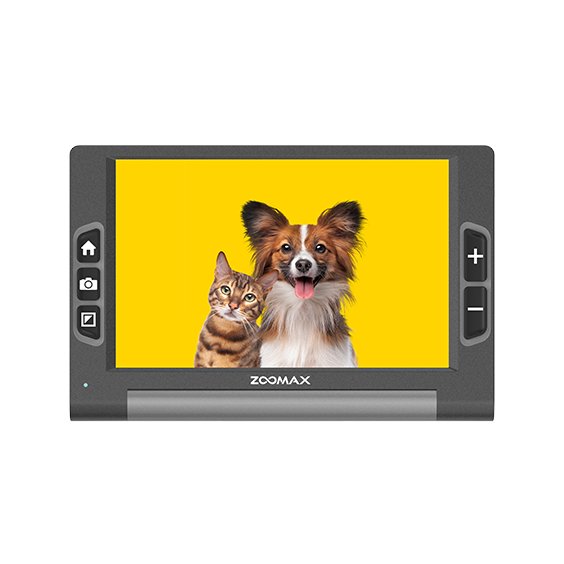 Most electroni video magnifiers can also freeze the image or object for closer inspection or to keep a specific place. The reading lines also make it easy to keep a specific place and cut down on glare. The adjustable monitors can also move in different directions and this also reduces the glare from the screen. Video Magnifiers also feature an anti-glare screen to reduce further risk to a senior's eyesight.

Zoomax Luna 6

A handheld electronic video magnifier is a lightweight vision aid and it has easy-to-use features for the elderly with low vision. Excellent graphics processing software and advanced camera function ensure high-quality images.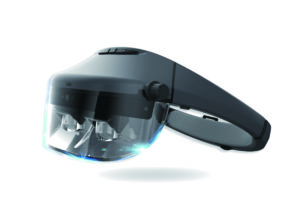 Most low-vision wearable electronic glasses have a wide field of view and they can display more on the screen at a time which reduces eye fatigue. The position locator of the video magnifier makes it easier for seniors to write and place items in the center of the camera view.
Some desktop electronic video magnifiers have split-screen mode. Seniors can then easily view a computer screen and the camera image simultaneously. Desktop magnifiers are much easier to keep the focus. The comfortable writing stand and available work surface make it easier for the elderly to write without any difficulty.
Of course, some electronic video magnifiers can be costly and it is important to make sure you invest in a quality device that meets all the needs of a person with low vision. It is important to consider the different features that will make a device suitable for the elderly.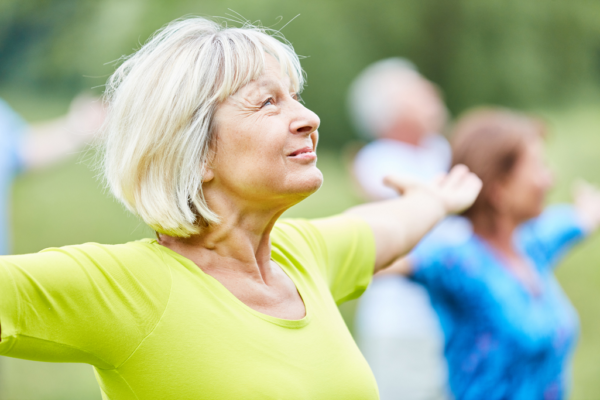 Benefits of Video Magnifiers For The Seniors
Seniors who suffer from limited eyesight benefit greatly from video magnifiers. Video Magnifiers can help senior citizens with daily tasks all day long:
Elderly people might feel self-conscious about their disability in public, especially when they have to use a low vision aid. The stylish electronic video magnifier, such as Acesight VR/S or IrisVision Inspire has the appearance of e-glasses or VR glasses and this will give a senior the confidence to take the low vision device out in public.
Vision aids can assist a visually impaired senior to read and write and the magnifier converts print into speech. The OCR and text-to-speech functions of the Zoomax Snow 12 ensure seniors have an option to listen to the text, rather than read the text if they prefer, which offers a senior more visual assistance than a pair of reading glasses.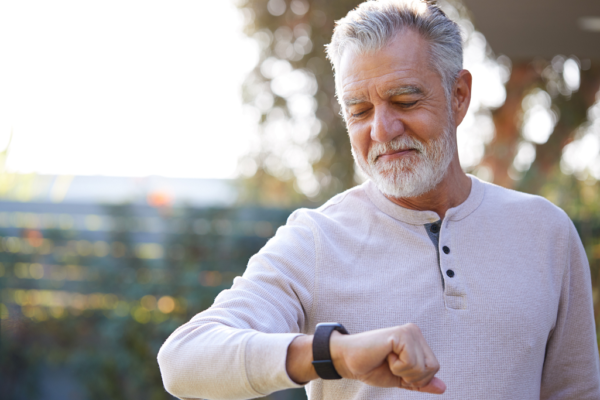 Electronic video magnifiers give the elderly with low vision a crisper and clearer picture of objects that are near and further away. The seniors with low vision using them will be able to read labels on a product just as well as on billboards next to a road. Seniors will also see better at night because they can change the brightness on the screen and the LED light will light up the reading materials to make it easier for the elderly to read in a darker environment.
Low vision aids can minimize the frustration of seniors, they can still do a variety of everyday tasks from reading to washing the dishes or sorting clothes without assistance from other people.
Remember, do not let low vision define your life or the life of a family member. There are amazing READING AIDS & DEVICES available to improve the quality of life and give visually impaired seniors, the opportunity to live their lives to the fullest. 
Shop around and research the different types of visual aids in the market. Contact specialists to discuss the specifications of visual devices to find the right one for you or your family member. 
Visit Zoomax for more information about low vision aids. You will find all the additional information you need about the product on website.
---
References:
Low Vision. (n.d.). Cleveland Clinic. https://my.clevelandclinic.org/health/diseases/8585-low vision
The burden of vision loss. (n.d.). Https://Www.Cdc.Gov/Visionhealth/Risk/Burden.Htm.
Anderson, A. (n.d.). What to know about video magnifiers for low vision.
Https://Www.Webmd.Com/Eye-Health/What-to-Know-Video-Magnifiers-Low-Vision#091e9c5e8242aca5-2-6.